Wig Care Daily Styling

A Wig care daily styling guide for all types of human hair wigs
Welcome to the wig care daily styling guide...full of tips to help you style your wigs.
As part of your lace wig care regime includes how you style your hair, not just how you was it, you can use these tips as a way to make the most of your wig and avoid the pitfalls of damaging it.
Wig Care Daily Styling... Straightening and Curling
Don't straighten your curly, wavy, kinky straight lace wig too often, once a week is plenty in order to preserve the wig.

Equally don't curl or crimp your straight lace wig too often for the exact same reason. If you really want two textures then it's worth considering buying two textures.
A great alternative to heat styling is to use a setting lotion and rollers to obtain curls after you've washed your hair (see our guide for straight hair or the guide for curly hair).

Wig Care Daily Styling.... Moisturising and Hair Oils
You can use an anti frizz serum when wet to keep curly lace wigs smooth. If you have a curly, Afro or kinky straight lace wig then you'll need to moisturise your wig at least every two days but each day is ideal and it's important to use hair oils at the right times, such as after deep conditioning the hair.
It's better to avoid any products that contain mineral oil (e.g. petroleum jelly) and for the curious out there, it's because the hair needs oil to penetrate it, but the structure of mineral oils means they only ever sit on the surface of the hair and attract dirt.
Instead find products with plant-derived oils like coconut oil or olive oil as these are better for the hair and will penetrate it keeping it soft – an oil free spray is a great option too.
The key is to go for a water based moisturiser you can spray… Hmm "How will I know it's a water based moisturiser…?" We hear you ask. Simple. It will have water as the first ingredient!

Keeping the hair moisturised is key which is why leave-in conditioners aren't recommended unless you moisturize or use hair oils afterwards to seal moisture into the hair as the protein dries out the hair and can make it brittle which leaves it prone to breaking or shedding.

If you don't like hair oils then a great alternative is to use a spray moisturiser with the ingredients mentioned above or go one better and mix 90% water with 10% glycerine. Use this daily for really curly lace wig textures like Afro curls, regular curly hair textures, deep wave lace wigs and kinky curls.

Wig Care Daily Styling… Brushing & Combing

Curly and Strong Wavy Hair

Always use wide tooth combs instead of brushes. The general rule is that deep wave and curly hair textures (including kinky curly and Afro curly textures) should be combed with wide tooth combs and not narrow tooth combs as these cause curly hair textures to loop and tangle as the hair is pulled through the narrowly spaced teeth.

If you really want to use a brush then ensure that the hair is fully detangled first and remember that you'll end up with a fluffy, volumized look with undefined curls (click on image to enlarge).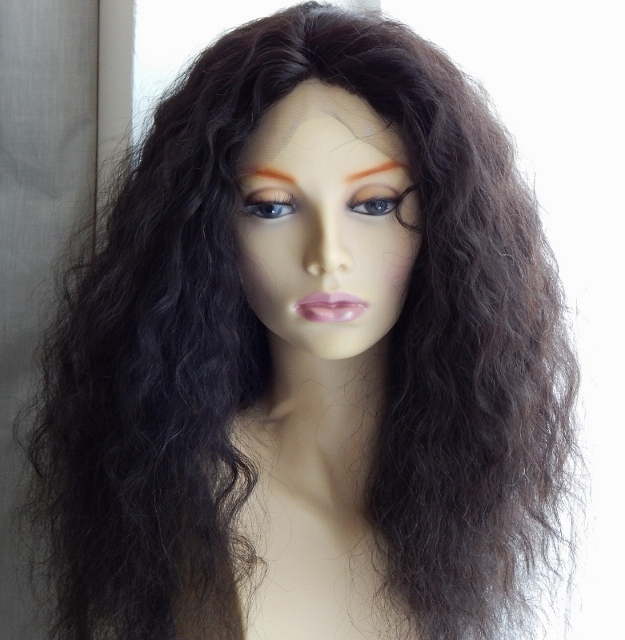 Deep Wave Hair Brushed Out
Straight and Soft Wavy Hair

Brushes – a detangling brush can be used on straight or body wave textures. Don't over comb the hair and don't comb it too much when wet as it can contribute to shedding of the hair on your wig! 
Combing twice per day should be fine and whenever you do, always start from the ends of the hair and work your way up towards the cap.

Wig Care Daily Styling... Styling Products
You can use whatever mousses, sprays and gels you like, but it's important to remember the more you use the more frequently you'll need to wash your wig… and the more you need to wash your wig the quicker it will wear, which also means that dyed colours will fade faster.
Annnnd relax! You've just completed a run through the wig care and daily styling guide and have an idea howto keep your wonderful wig, looking... well... er... wonderful.
Why don't you visit our store, peruse the Perukes and pick what suits.
If you wear other hair too, then check out the guides about caring for hair weave and maintaining clip-in hair extensions; or if you're more into micro ring hair extensions there's a series of guides about caring for those too.
If you have questions that don't fit into any of the above guides there are more answers in our Hair Extension Q&A  and Lace Wig Q&A section, or you can keep up to date with all our guides and articles about hair extensions, wigs, weaves and hairpieces by joining our blog, it's easy to do and doesn't require any personal info - yay!


Jump From Wig Care to Home Page


Custom Search