The Handy
Hair Extensions Clip
The ever so handy hair extensions clip...
Want to enhance your look without wearing a wig? Then the hair extensions clip could be just what you're looking for.
With the click of a clip you've immediately transformed your look. Go from office mode to sassy chic mode in a matter of minutes.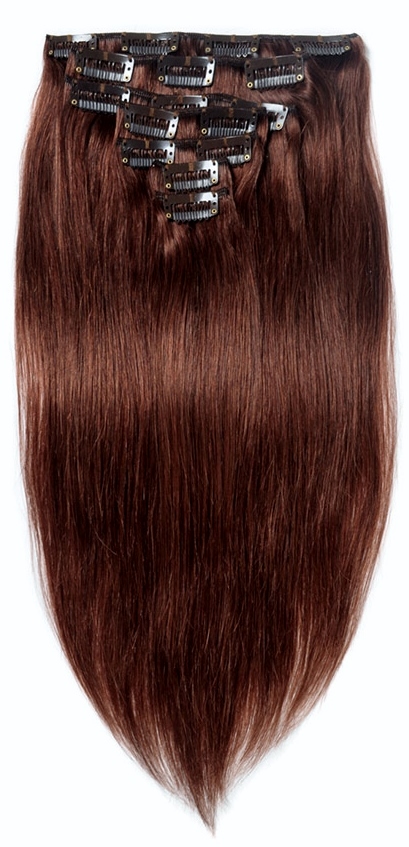 brown hair extensions clip
The great thing about clip on hair extensions is that you can buy them in virtually any colour and density.
So whether it's to add a splash of colour to your hair or simply give your hair a fuller look with additional extensions that match your own hair then clip in hair extensions are the way to go.

How Do They Work?
Clip on hair extensions are like ordinary hair weaving wefts with the addition of a small clip at the top. Each weft can be anything from an inch to six inches in length with several clips to hold the hair in place.
Due to the nature of these extensions, you don't need to go to a salon to attach them; you can do them by yourself. If you're unsure, follow the easy three step guide to attaching clip in hair extensions.
1 - Section hair (starting from the nape of the neck if you're going for an all over look) keeping the clip open facing your scalp
2 – Gather a small section of your own hair under the clip then snap the clip into place
3 - Repeat until you achieve the desired look.
Handy Hair Hint: Style your hair and the clip in extensions before attaching the extensions.

How Long Can You Leave Them In?
As a hair extensions clip is so easy to put in, they are necessarily easiertake out; and so for this reason, we'd recommend that you take them out before you go to sleep for the night…
"Hmm why the odd phrase?" We hear you ask. Well it's because you might choose to wear your extensions clip on a night out, so if you stroll in at 4 AM and want to go to bed, then that's the time to take out the hair extensions clip!

Densities for Clip On Hair Extensions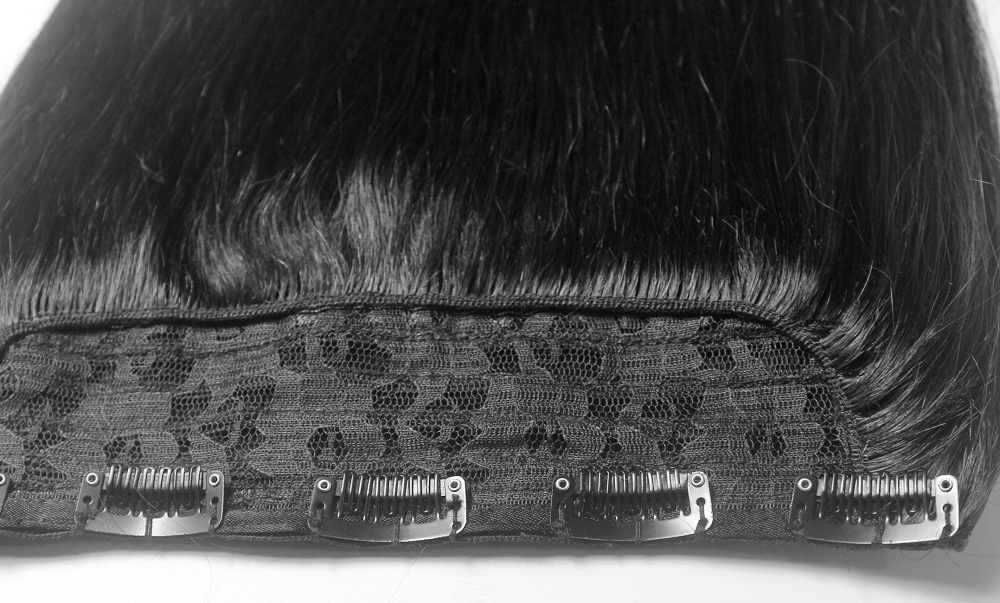 Heavier density, single piece clip in (weft) hair extension
In addition to the different sized clips, the larger clips are also available in different densities.
In many instances this means you can buy the same width of weft but at difference densities for example:
You could choose to buy a single 9" hair weft that weighs 100g or;

You could choose to buy a single 9" piece that weighs about 35g.

---
Single Or Multi Clips
Clip in hair extensions are also available in multi width sets which usually start at seven piece sets and can increase to 12 piece sets and come in varying densities (weights).
The weft size ranges in width from approximately (1 inch) 2.5cm for the temples to 23cm (9 inches) for the back of the head.

Human Hair or Synthetic Hair Extensions?
Ah, the perennial question… human or synthetic. We can only give you the information; you have to decide what suits your needs. There's a wider variety of colours for synthetic clip in extensions so that may sway your decision.

Human hair has the benefits of being treated like, well, human hair! You can curl it, straighten it, blow dry it; it's up to you.
There are the same textures for both types of hair and you can check out the guides about straight hair textures for clip-in hair extensions as well as curly clip-in hair extensions and of course, wavy clip hair extensions.
Synthetic hair doesn't like heat unless it's labelled as heat resistant synthetic hair. It's not all bad news though, you can still use rollers and hairsprays and mousses to achieve your desired look.

Handy Hair Hint: If the idea of glues, cornrows or pre tipped extensions requiring bonding leave you feeling bewildered then a synthetic or human hair extensions clip could be just the thing for you. However, if you still have more questions, then have a look at frequently asked questions section on clip on hair extensions the before you part with your hard earned cash!

Speaking of parting with cash, if you've never bought clip in hair extensions before, it might be an idea to find out whether you can return clip in hair extensions if you have a change of heart when they arrive through your door. In addition there are some other points to consider before buying clip-on hair extensions.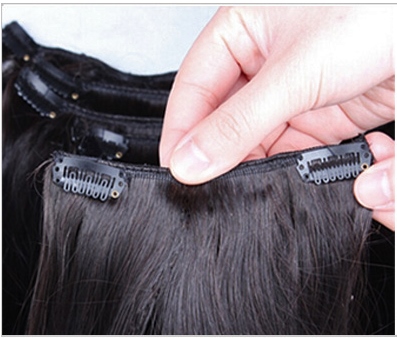 Lighter density, single piece clip in (weft) hair extension
You Might Like These Related Guides
Clip-in Hair Extension Textures
From super curly to super straight, there's a texture for everyone

Clip-in Hair Extension Care
Learn how to keep your real hair (human hair) clip-in hair extensions looking good.
Know before you buy
find out some key pointers to consider before you buy your clip-in hair extensions.



There's more information in the Hair Extensions Q&A section as well as the navigation menu, or you can keep up with all the latest info on clip-hair extensions, wigs, and weaves by joining our blog; it's easy to do and doesn't require an email - hooray!

Jump from Hair Extensions Clip Info to Home Page


Custom Search