How to Choose A Bob Wig With Bangs
"What's the best type of bob wig with bangs?"
Ah... the famous "what's the best bob wig with bangs?" question...
OK, OK, it's not a famous question and in fact, it might not even be a common question; but it's a question that's been asked a few times and so we've put together a few pointers to consider when you choosing a bob wig with fringe bangs...

...Yep, you read that right... we've combined the British term (fringe) and the er... non-British term (bangs) to create a unique and universally understood term now known as Le Fringe-Bangs... (pronounced Le Fronge-Bongs in a Fronsh accent ahaha)

If you're thinking of going for a bob wig with bangs or bob wig with a fringe as we would say, here are some features you should think about so that you choose a bob wig that's right for you.
We'll take it that you already know what hair colour you're after so then that leaves the length and the texture of hair.

Bob Hairstyle Basics
OK, if all the different bob hairstyles were to be listed here, then this guide would go on for a very, very, very long time.... so we'll just cover a few of the bob style basics.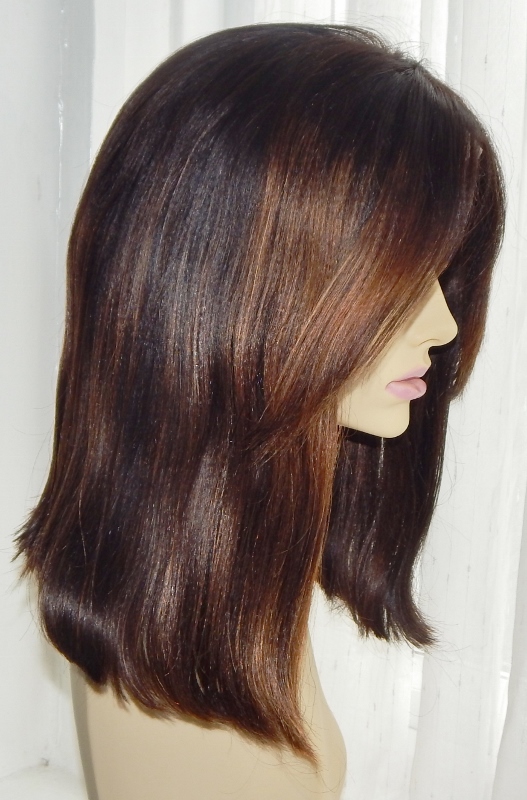 A-line bob:  A bob with slightly longer hair in front that frames the face, it may or may not curl under the chin.
Chin-length bob: Cut straight to the chin.
Graduated bob: Similar to an A-line bob, but with stacked layers in the back. The bottom of the cut is curved rather than being a straight line - this can be at chin length or below the chin.
Shaggy bob: A messy bob with layers - chin length or below
Shoulder-length bob: A blunt bob that reaches the shoulders
Sloping bob: A bob that is much longer at the front than at the back which means the hair length slopes downwards towards the front when looking at it from the side - the front of the bob usually ends below the chin.
Bob Wig With Bangs.... Texture Options
If you know anything about wigs or if you've read our texture guide then you'll know there is a wide range of hair textures.
Bob wigs are pretty much available in all textures, including super curly and Afro textures.
This means that no matter your preferred texture or natural texture, there's a bob wig with fringe bangs for you - whoopee!
Synthetic blend wigs (wigs made from a blend of real hair and high quality synthetic fibres) are more affordable than real hair wigs (human hair wigs)
Synthetic blend wigs are more affordable (real hair blended with synthetic fibres) or you could go the ultra affordable route and choose a synthetic hair bob wig.
The more affordable options make it easier to experiment with textures.
Top Tip for Bob Wig Textures
The less straight the hair texture, the fuller the look. 
This means a curly texture at normal wig density (130%) will look more voluminous than a straight texture at the same density.

Bob Wig With Bangs... Length Options
Longer Bob Wig
It may seem a bit odd to talk about lengths because the idea is that bob wigs are very short... but shortness comes in different lengths.
The basic lengths to choose from are:
Ear length
Above the chin
Chin length
Below the chin
There are different lengths of bob hairstyles so whether you have a heart-shaped face or an square-shaped face, there will be a bob hair length to suit you - there's a length for every type of face shape.
Why not check out our wigs by face shape guide for length and style ideas.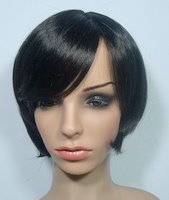 The basic idea is to work with the shape of the face - think about want you want shape you want to create (or emphasize) or which shape you want to make less apparent (or de-emphasize).

Fringe bangs make longer faces look shorter. This means you can choose shorter lengths at chin level or above without making the face look longer; and shorter lengths around chin level and just below, will make make a longer face look shorter.
If you want a face to look wider, then shorter and close cropped looks work well; and if you want to de-emphasize a wider face (create the appearance of it being less wide), then lengths below the chin work well, especially in wavy textures.
Bob Wig With Bangs... Colour Options
Whatever colour you're looking for, you'll find it in a bob wig.
Just like other wigs, you'll find, tints, T-colours, ombre, dip-dye, highlights, lowlights, streaks and any other colour technique you can think of!

If you want to match hair colour to your skin tone, then check out the hair colour and skin tone guide which shows the hair colours that compliment different skin tones.

Remember, it's just a guide - ultimately you should always choose a colour that you like, and feel comfortable wearing - guides are not rules, they're just guides.
Bob Wig With Bangs... Style Options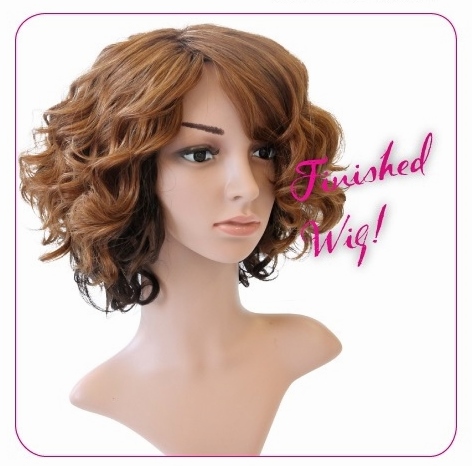 Much like other wigs, bob wigs with fringes come with different cuts, including layered cuts, asymmetrical cuts, side fringe bangs, blunt fringe bangs
That's a quick bolt through bob wigs with bangs!
If you want to be the first to know about our next guide about lace wigs, hair extensions or hairpieces, then why not join our blog, it's easy to do and doesn't require personal info - hooray!

You Might Also Like These
DIY Weave Fringe Bangs - Learn how to cut fringe bangs into your weave hair.
Wigs By Face Shape - Find out how fringe bangs can help you choose a wig that compliments your face shape.
DIY Lace Wig Fringe Bangs - Find out how to cut fringe bangs into your lace wig in four easy steps.


Jump from Bob Wig With Bangs to Q&A Page

Jump From Bob Wig With Bangs to Home Page


Custom Search
---