Dip Dye Hair Weave DIY Guide

(dyeing human hair weave)
"Can you show how to dip dye hair weave at home?"
Welcome to the dip dye hair weave DIY guide.
Dip-dyeing the ends of human hair weave extensions can create a unique look - make it subtle by choosing darker colours like deep burgundy go straight for eye-catching blonde.
The Dip Dye Hair Weave DIY Guide for Human Hair Weave Extensions
It might sound obvious, but it's worth being clear that this is a DIY guide for dyeing human hair weave; the process for dyeing synthetic hair weave is different.
Dyeing the hair weave yourself can save a bundle on your hair weave bundles (see what we did there? Hee hee) and although not professional hair colourists, here is a great pictorial DIY guide (courtesy of Outre) to dyeing your own human hair weave extensions to help you on your quest to becoming your very own hairdresser (or maybe just a  nice way to jazz up some hair weave when the feeling takes you).
Tools
Follow the step-by-step guide on how to bleach and dye non-processed human hair weaves to any color you desire.
Items you will need:

Bleaching Powder
Developer V20 or V30 (or use the level necessary for the color you choose to dye your hair weave wefts)
Hair Dye Product (plenty of home dye kits out there, take your pick)
Mixing Bowl
Foil Sheet
Hair weaving wefts - You can use any texture hair of human hair weave extensions.
Lace Closure (optional) - No Lace Closure? You can create your own closure piece out of weft hair - follows steps 7-9 of this DIY Wig Guide.
Additional items not shown in images
Application brush
Spray water bottle, filled half way
Plastic gloves
Large  plastic scoop
Large container for dyeing the hair weave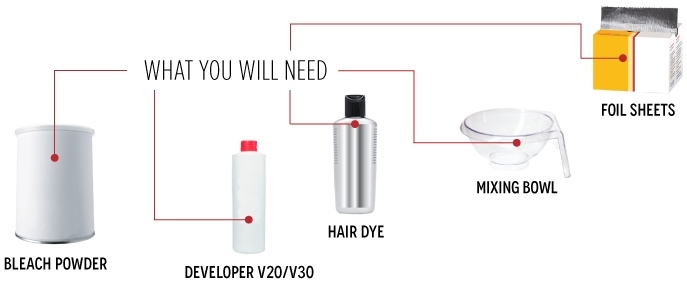 *Make sure you are in a very well ventilated area (open the window) to avoid inhaling vapours, and wear a mask when working with bleach powder*

Step 1
Lay out the foil (shiny side down) and place hair wefts on top.
Lightly spray hair wefts with clean water. This helps open up the cuticle to speed up the process.
---
Step 2
Add two scoops of bleach powder and 20V or 30V crème developer together (50:50 ratio) and mix them together completely.

---

Step 3
Using an application brush, start to apply the mix on your hair wefts.
Make sure that the mix is well and evenly saturated.
Fold the foil over the bleached area of the human hair weave extensions, press down and set a timer for 15 minutes.

*Be sure to check the hair wefts every 5 minutes to see how much the hair is lifting, as the time of processing may vary depending on the products and hair you use.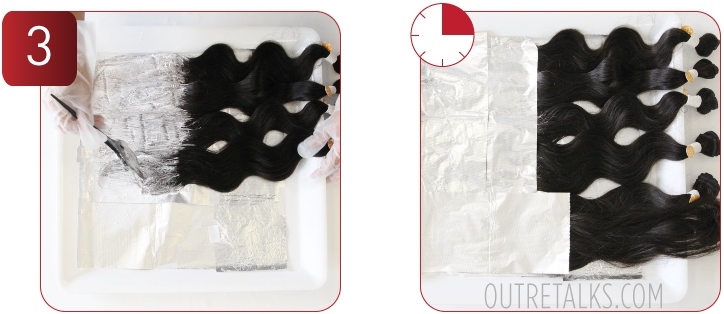 ---
Step 4
Shampoo thoroughly in lukewarm or cool water making sure all the chemical residue is washed out. 
*Do not use a hydrating shampoo or conditioner during this wash because these products will close the hair cuticles and make it difficult for the hair to absorb the dye colour.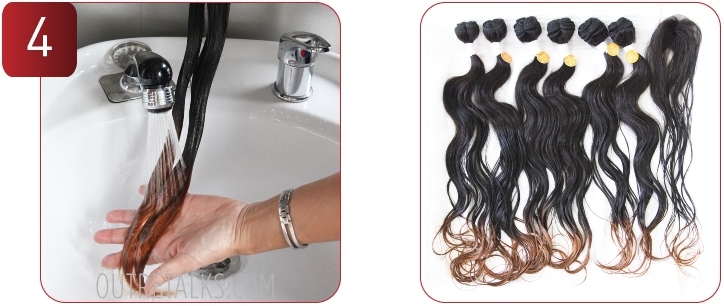 ---

Step 5
Apply hair dye products at around two centimetres (2 cm) above the bleached area of your  hair weave extensions so that there's a natural transition between the original hair color and the bleached area.
Let the hair dye color process for 30 minutes.
Then, shampoo in lukewarm or cool water, and apply a deep conditioning treatment for at least 15 minutes and rinse well.
* If the human hair weave extensions are wavy in texture, then make sure they are not stretched straight during this time; lightly scrunch the hair to keep the wave pattern.
Lay the hair on the towel to air dry completely.
Do not hang the wet hair to dry because that can stretch out the curl pattern.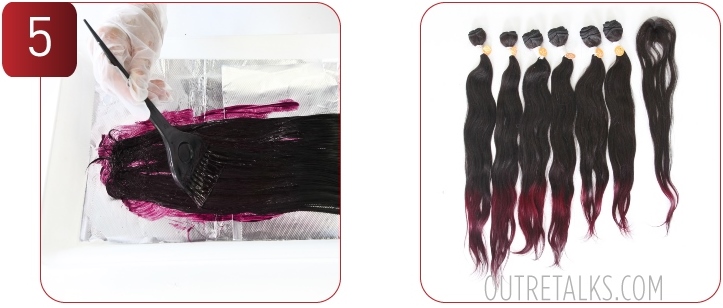 ---

Maintaining your newly dip dyed hair weave extensions

Treat your human hair weave extensions like it's real hair - because it is.
As you've dyed the hair (or purchased dyed human hair wefts) use shampoo for specially designed for dyed/coloured hair. Avoid products that contain SLS (Sulfates) and use conditioners.


Voila! You've just followed the Dip Dye Hair Weave DIY Guide and learned to dye your own hair weave!
If you want to be the first to know about our next guide about how to make wig or anything else to do with lace wigs, hair extensions or hairpieces, then why not join our blog, it's easy to do and doesn't require an email address. 

Images and basic steps about how to dye human hair weave extensions can be found at www.outretalks.com


Custom Search
Jump from Dip Dye  Hair Weave DIY Guide to Q&A Page