Choose Braided Hair Extensions
Braided Hair Extensions... Explained
In the arena of hair extensions, braided hair extensions are possibly the oldest form… buy don't let that fool you into thinking there aren't a plethora of ways to wear these fabulous extensions.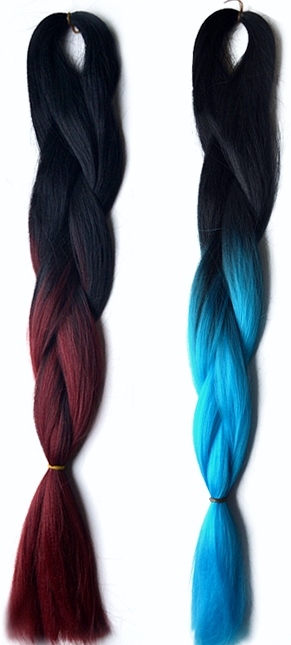 Synthetic Bulk Hair Braiding Extensions
Whether you choose the ol' pick an' drop technique or you're into tree braiding, braiding hair extensions is a straight forward way of using hair extensions to change your look and manage the sometimes unmanageable hair.

What Types of Braid Hair Extensions Are There?
There are broadly two kinds.

The first kind is the kind that you braid all the way to ends (or plait as we say in England), or you plait to the length you desire.
Often seen on young girls and women alike they're easy to maintain and braid hair extensions are super easy to wash.
Ways to wear full braided hair extensions: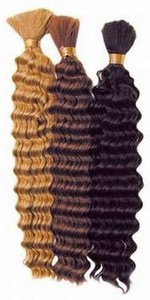 Bulk Human Hair Braiding Extensions
Pick and drop braids (aka, single braids or box braids)
Pick and drop twists
Cornrows (canerow)

The second kind is the kind that you braid until you get to the end of your natural hair and leave the rest of the hair extensions free flowing.
Lots of people like this kind because it's a way of having the best of both worlds, textured free flowing locks of hair also happen to be braided - so easy to look after!
Ways to wear free flowing braided hair extensions:

Pick and drop with the ends of the textured hair braiding extensions free
Cornrow (canerow) with the ends of the textured hair extensions free
Crochet braids with your own hair canerowed (cornrowed) and the hair braiding extensions looped through the cornrows and either twisted or free
Is One Kind Better Than The Other? 
Whether you plait all the way to the end or; only plait the hair for a few inches, each type of hair braiding extensions are of equal merit. So it's down to personal choice.

Who Can Wear Braided Hair Extensions?
These extensions are unsuitable for those who have extensive hair loss at the front of the head but can be used to conceal small areas of hair loss at the rear of the head.
Braid hair extensions are great for everyone. Whilst the majority of people who tend to wear plaited extensions are black it's not uncommon to find other ethnicities wearing their hair this way. The on-trend look of ombre and dip-dye colours for braid hair extensions means that the look is not just about practicality but also about self-expression.
The only word of caution is that the straighter the hair of wearer the tighter the braiding or the less smooth the hair braiding extensions will have to be in order not to slip out – to be clear we're not talking about the tightness of the attachment - a tight attachment can cause traction alopecia. We're talking about the tightness braided part itself.

Pre-twisted hair braiding extensions
How Much Hair Will You Need For A Full Head Of Braided Extensions?
Ah the perennial question! When used for kiddiewinks, two packs of standard jumbo braids hair extensions cut in half. You'll probably end up using about one and a half packets all together (three of the cut bundles).
When using synthetic bulk braiding hair on adults (with an average head circumference of 22.5 inches), five to six packs without cutting the hair in half; or
three packs if the hair is cut in half.
When using human hair on adults - a minimum of three packets will do the trick and give a medium fullness of hair without causing too much strain on the scalp. Some folks use more because they like a super voluminous look.

Colours For Braided Hair Extensions
Hair braiding extensions come in a variety of colours like jet black, dip-dyes, T-colours, browns, ombre, auburn, pastels, lowlights, honey blondes, highlights, caramel blondes, greens, platinum blonde, blues, copper...you name it, you'll find it.

If you'd like to know which hair extension colours complement different skin tones then check the hair colour and skin tone guide.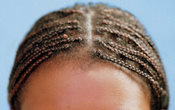 Pick and drop (box) braid hair extensions
Human Or Synthetic Braided Hair Extensions?
As with all perukes, hairpieces and extensions, human hair allows the wearer to treat the hair as they would with growth hair. You can use straighteners and curling irons, you can use hot rollers and hair dryers – the choice is yours.
With synthetic hair for braiding extensions you can't heat style - unless it's labelled as heat resistant; then you can use heat to style or hot water to seal ends.
Non-heat resistant synthetic fibres can be blow dried but it must be done on a cold setting or the hair will melt.
If you'd like more tips, take a looksee at our Hair Extensions Q&A section or you can keep up with the next guide or article about extension hair, hairpieces and wigs by joining our blog.


Jump From Braided Hair Extensions To Home Page


Custom Search