Custom Lace Wigs, The Choice Is All Yours
Custom lace wigs allow you to customise a remy or non-remy full lace wig, lace front wig, synthetic full lace wig, or synthetic lace front wig to your individual specifications and although we no longer provide this service, here is a guide to explain how the custom wig process works.
Whatever the reason for needing or wanting to wear a peruke, the feeling of not looking like yourself is the same for anyone.
It doesn't matter the reason for customising your wig, it's about having hair that you can wear with confidence.
This is why with think that custom lace wigs are so important. You can choose from a custom made full lace wig or a custom lace front wig.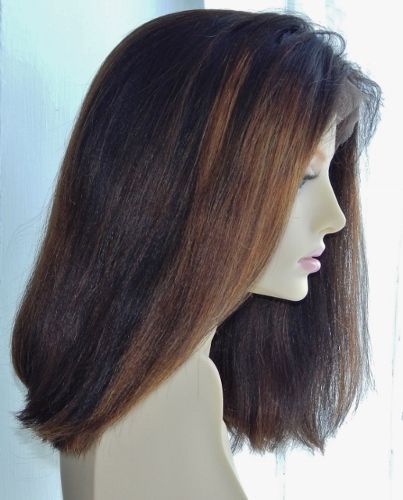 Custom lace wigs: 16" yaki-straight bob, dark brown with blonde highlights
What Should You Expect?
Customising a wig is the same thing as you designing your own ideal hairpiece and because of that, there are definitely questions you should ask before you order about the process of ordering a custom made wig as well as questions about colours and textures for custom made wigs.
Many retailers can take a picture of the hair you would like and have it made into a custom made wig that meets your specific requirements.
It could be a photo of you with growth hair, or it could be a picture of someone else with a hair length, colour and style that you really like.
It might be that you use a custom wig service because you want an ordinary straight/curly/wavy wig made in the exact same colour as a sample of your own hair.
It could be human hair (Brazilian, Chinese, Mongolian, Indian or European) or it could be heat resistant synthetic hair.
It really is up to you.
What is important is that you find a company that will commit to working with you to attain the hair that you desire.
Styles of Cap Constructions Available for Custom Lace Wigs
As it's all about choice, there is plenty of full lace cap constructions to choose from…

If a lace front wig is what you're after then follow the links to learn more about lace front wigs that have the following cap constructions:
Custom lace front wigs: 16" yaki-striaght bob, dark brown with blonde highlights
Who is this service for?
Quite simply, everyone. It's for children, teens, men and women.


Other Options for Custom Lace Wigs
Since this process is about designing your very own wig or hairpiece there are a plethora of options available…
Choose from, light colours or dark colours, different colour blends for a multi-tonal look, dark roots with light ends, different densities of hair, hidden knots, larger or smaller cap sizes, human cuticle (unprocessed) hair, treated hair or synthetic hair, the choice is yours…
What's more, because each wig is entirely designed exclusively by and for you, you get record of your design to be used when it's time for your hairpiece to be replaced.
So whatever you're after with custom wigs, make sure that you know what you want and that the company can provide it.


Jump From Custom Lace Wigs to Home Page


Custom Search