The Marvellous Micro Ring Hair Extensions!
Micro ring hair extensions also known as micro loop hair extensions, beaded hair extensions, micro link hair extensions and micro bead hair extensions are proffered as one of the safest methods of hair extensions as they don't use glue, moulded bonds or heat to apply or remove. Here are some quick fire points about how this nifty little hair extension works!


What Are Micro Ring Hair Extensions?
Well the name says it all, they are hair extensions (called I-tip or stick tip hair extensions) that are attached to hair by little ring. The rings come in five sizes with the medium size usually being used on average density of hair. The smaller rings can be used near the edge of the hairline.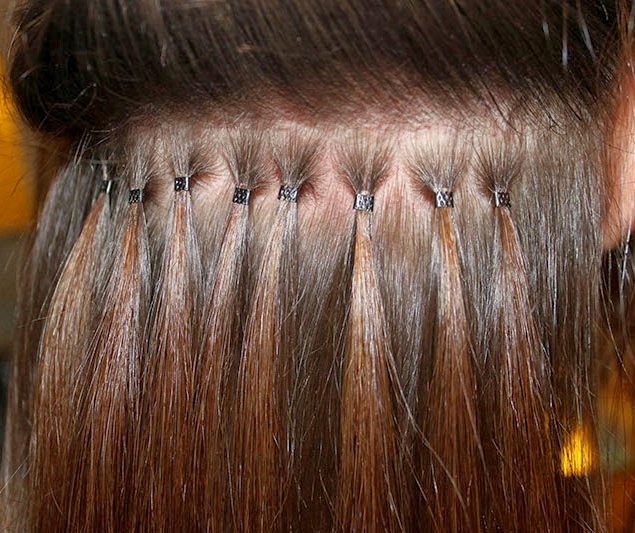 Micro Ring Hair Extensions Attached
It's quite common for people to have them applied ear to ear around the back of head in order to add length and fullness.

Click on image to enlarge.
Image courtesy of http://www.alittleobsessed.co.uk/2014/03/the-refit-vixen-and-blush-micro-ring.html

How Are Micro Ring Extensions Attached?
The hairdresser takes a few strands of growth hair (think of the thickness of few millimetres) and attaches the stick tip (I-tip) micro ring hair extensions by drawing the growth hair through the ring using a micro ring needle or latch hook. The ring is then tightly clamped to shut the hole using micro ring pliers securing the hair extensions to the growth hair.
Micro loop hair extensions come with pre-fitted plastic loops which are used to thread the growth hair through the micro rings instead of using a pulling needle. This is an easier application of micro ring extensions and both types of micro ring extensions are available in a variety of textures.
What to Expect When Micro Ring Hair Extensions Are Attached
Micro ring hair extensions should not be fitted tightly at the roots.
Once they've been fitted, it's normal for there to be some discomfort (not pain) in the first few days, as you've added weight to your hair and this may cause your scalp to feel tender.
If the discomfort continues for more than a couple of days, it's best to have them removed.
How Long Do Micro Ring Hair Extensions Last?
If you want to keep them in long term then visit your salon every six to eight weeks to have the micro rings further up as your natural hair would have grown a few centimetres in that time and they can check the condition of your own growth hair.
How long your  hair extensions last also has a lot to do with how they are maintained, including washing and drying the hair extensions, as well as combing the micro loop hair extensions.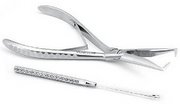 Micro Ring Extensions Tools: Beading and Pliers
How Are Micro Rings Extensions Removed?
Easy, the same micro ring pliers that clamped the ring shut is used to pop it open and the hair extension is extracted. Because of this method, some people use the same hair for two applications. The downside is that they do have to be removed with professional equipment. The use of nail clippers for removal can potentially cut the growth hair… and this site is all about additional length!


Can Micro Rings Be Seen?
The micro ring extensions are applied very close to the scalp so providing you have enough growth hair surround the area, they will not be visible to someone standing next to you. As well as this, the rings come in all colours so using the ring colour closes to your hair colour will further help conceal them… Nifty!

What Are The Actual Micro Rings Made Of?
In the olden days… 1992 … They were made of metal which as you can imagine caused a whole host of problems when the hair was washed… Fancy some rust with your conditioner?! Nowadays they are made with sophisticated mixes of plastic which mean they don't corrode or break down if you wash your hair or go swimming in a chlorine pool.
How to Care for Micro Ring Hair Extensions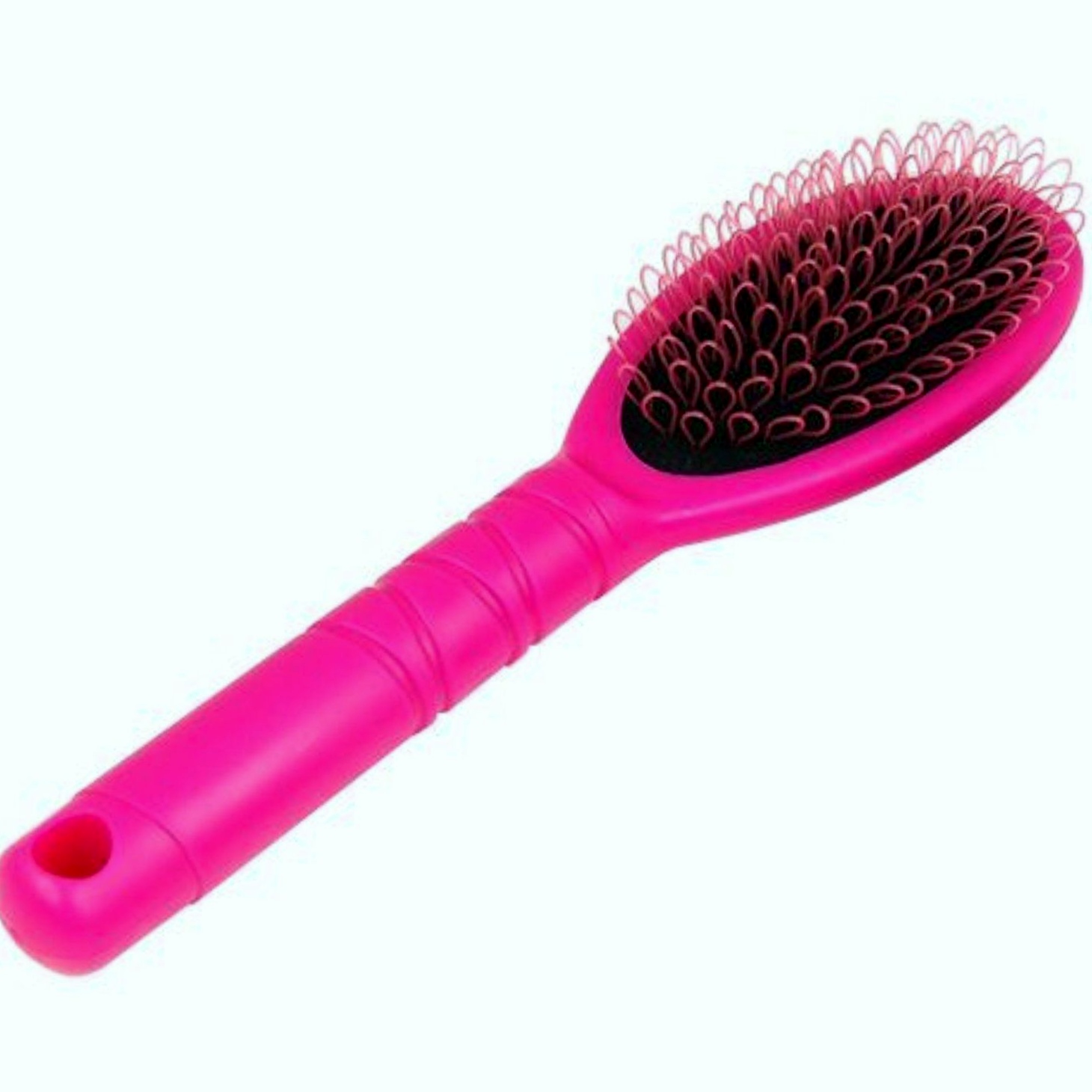 Micro loop brush
There are a number of things that micro ring extension wearers should do to look after and maintain their micro ring extensions. The fact is, your daily styling routine will last a little longer due to ensuring that the hair extensions are detangled (preferably with a detangling comb specifically for hair extensions) and heat styling your micro link hair extensions should be kept to a minimum.
You'll have to make sure that the way you wash your micro ring extensions, along with the way you dry them doesn't damage them.
If you're new to micro link hair extensions or want to refresh yourself on how to care for them then  click here to learn about who can wear them and basic maintenance.

You'll also have to make sure that you don't style or comb your micro ring extensions in any way that puts a strain (or tension) on the links (you don't want to weaken the bonds or cause the micro rings to slip down your natural hair and come out) and the combing techniques apply to straight micro link hair extension textures as well as wavy micro link hair extensions and curly texture micro ring hair extensions.
You can still participate in sports and exercise, and although you can go swimming with micro ring extensions, it's important to remember that chlorine can cause the hair to dry out and can sometimes change the colour of the hair too.


You Might Also Like These Guides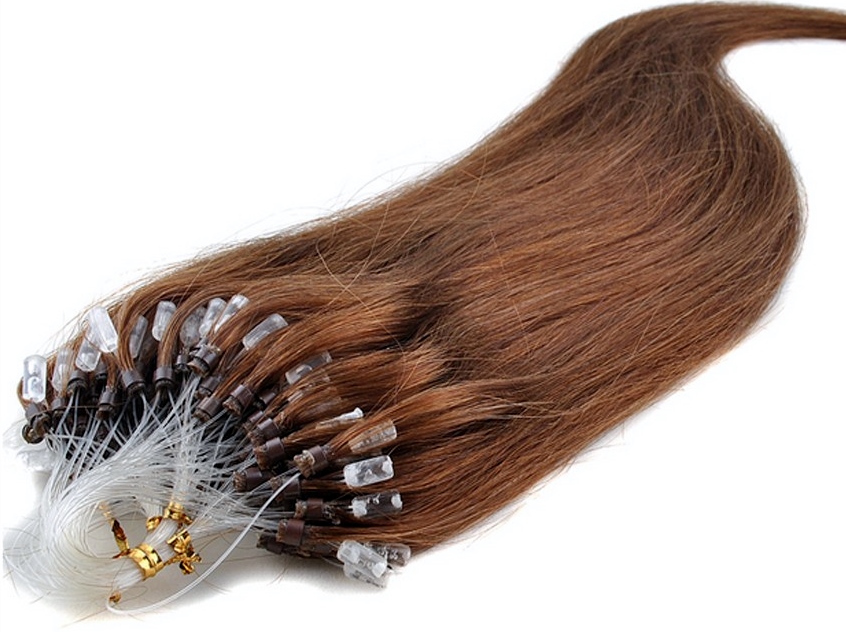 Micro ring extensions also known as micro link and micro loop hair extensions
Micro Ring Hair Extension Textures
Straight, wavy, curly or Afro, there's a texture for you.
How to Care for Micro Ring Hair Extensions
All you need to knot to care for your micro bead hair.
How to Wash Micro Ring Hair Extensions
Easy steps to keep your hair extensions clean and fresh.
Swimming with Micro Ring Hair Extensions
Check out the top tips on swimming with micro ring hair extensions.
There's more information in the Hair Extensions Q&A section, or if you'd like to keep up to date with the next guide about hair weave, hair extensions, wigs and hairpieces then join our blog.

Jump From Micro Ring Hair Extensions to Home Page



Custom Search