What Curly Textures Are There For
African American Hair Extensions?

"What are the different types of curly textures for African American hair extensions?"
A lot of folks across the pond (USA) ask about African American hair extensions and sometimes they're referring to texture and sometimes they're referring to the type of attachment. We have a Q&A section about different types of curly hair extensions like hair weave and guides about micro ring hair extensions, but if you're looking for now, let's run with this curly texture overview (click images to enlarge).
First things first; you can choose any kind of texture you like - part of the benefit of hair extensions is that you get to experiment with different looks. There are those who prefer to texture-match their hair extensions and there are those who prefer to wear whatever texture they find appealing - it's your hair (you've paid for it, so that makes it yours) so the key is to feel comfortable and confident about your look.

Measuring Length in Curly Hair Extensions
Whatever your reasons for choosing curly textures, always remember when ordering your curly hair extensions (or wavy) is that the length quoted for curly hair is the straight (stretched) length, not the curled length. The image below shows a wavy 22" bundle of hair weave - when it's straight it's 22" and when it's wavy the length is 17".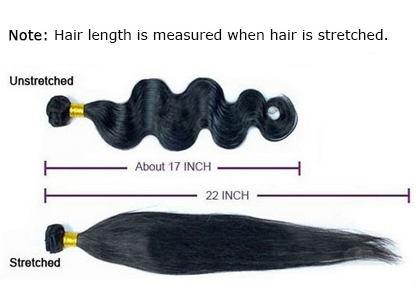 Measuring curly and wavy hair length
Always make sure you know what the curly length will be before you buy.

OK, maths lesson over, let's canter through some of the top curl patterns for African American Hair Extensions...

Textures for African American Hair Extensions...Afro Curl
If you're looking to texture match, then Afro hair extensions (hair weaves) are abundantly available in a range of lengths and colours.
African American Hair Extensions - Afro Hair Weave
You might not already know but Afro curly hair extensions are not just available as hair weaving wefts, but also as clip-in attachments as well as bulk hair for braiding -yay!

Some folk are on the run from natural kinky curls and others simply want more volume and longer Afro tresses - whatever the motivation, just remember that as a curly hair texture, it will require caring for in a way that preserves it texture, which includes moisturizing to keep the hair soft, nourishment from hair oils and it will need to be washed in a way that protects the curl pattern.

Textures for African American Hair Extensions...Kinky Curl aka Loose Afro Curl
African American Hair Extensions - Kinky Curl Hair Weave
Another favourite, known by several names and loved by many. It's a versatile texture and yes although you can heat straighten kinky curls it's not really advisable as for the most part, the hair has already been processed for texture and so excessive heat styling damages the hair shaft and distorts the curl pattern.
The loose Afro curl (kinky curl) texture is really popular as it has all the appeal of small curls but with the bonus of great movement - if you move, your kinky curls will move.
Kinky curl (loose Afro curl) is available for hair weaving, fusion bonding, clipping-in, gluing,micro ring hair extensionsand braided hair extensions.

As always with curly textures, the longer the hair the more work to manage but folks regularly wear 22 inches with ease (remember that 22 inches is the straight length not the curled length)
If you decide on this ever-popular texture then check out the guide on caring for kinky curly hair which has links to washing kinky curly hair weave hair.
Key factor to note about kinky (loose Afro) curls:
The size of the curl varies, so check the description and image of the hair before you buy.

Textures for African American Hair Extensions... Drop Spring Curl
This texture goes by quite a few names, from egg curls to bouncy curls and many more. Drop curls basically mean that the curl pattern doesn't start at the track but rather at some point along the length of the hair. Some drop curls start at the half way point others at the bottom third of the hair.

African American Hair Extensions - Drop Curl Hair Weave
Drop curl hair extensions are available in a range of lengths and colours and can be a unique twist on the everyday curl patterns for hair extensions. Although available as human hair and synthetic hair, it's better that this texture isn't heat styled as the shape of the spirals may well be distorted when they return (when washed).

Key factor to note about drop curls:
If you're ordering a longer length of hair, find out exactly at what length the curl patter starts; there are many cases where someone buys a 20 inch drop curl hair weave only to find that the curl patterns starts at chin level and they were hoping for the curls to start at the shoulder level.

---
The curly texture for hair extensions is a popular texture and with so many variations, it's easy to see why it's not just African Americans (or those with Afro hair) who love curls.
Whilst this page doesn't cover the full gamut of curl textures for hair extensions, it hopefully it gives a taste of the curly textures out there and the textures that are close to the natural variations of African Americans hair types and those with Afro hair; and for those of you who love wavy hair, you can review the guide about wavy textures for African American human hair extensions.
Join our blog to be the first to know about our next article.


Jump from African American Hair Extensions to Q&A Page

Jump From African American Hair Extensions to Home Page


Custom Search