Full Lace Cap Wigs Without Stretch Material
Full lace cap wigs without stretch are pretty much what they say they are – they're made completely of lace and nothing else.
Wearers who choose this type of lace wig cap construction like the fact that it sits more closely on the crown and back of head (more snug).

As it's made entirely of lace, the measurements are really important so the lace cap measurement match your measurements perfectly.
The exacting measurements means that full lace wigs without any stretch are usually for custom-made full lace wigs as opposed to the standard "in-stock" (ready for immediate dispatch) full lace wigs that come with stretch.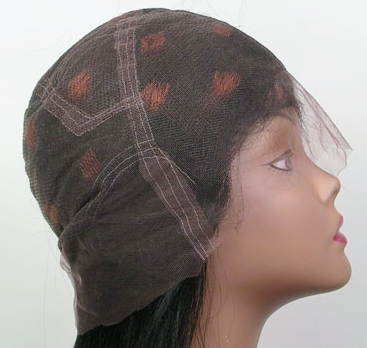 No stretch material in this Full lace cap wig
Full lace wig caps without stretch material tend to be used by more experienced lace wig wearers, those with significant hair loss and those who are only seeking custom-made full lace wigs with unique colours and lengths.
Naturally you'll need to use an adhesive with this cap.
As it's made entirely of lace, you can part our hair through the middle (a half up, half down style, canerows, pigtails and so on).


Full lace wigs without stretch are generally not recommended for those who are completely new to wearing full lace wigs. If you're totally new but still really keen to have a full lace wig, then at the very least, try a cap construction that has lace at the crown. The easiest full lace cap construction is one with ear-to-ear stretch. 
Full Lace Cap Wigs Without Stretch Material - The Benefits, Drawbacks and Variations...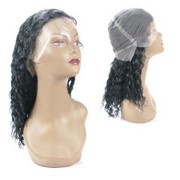 Benefits
Easy to put on
Allows hair to be worn in a high ponytail  or high up-do with an undetectable hairline around the ears
Allows hair to be parted anywhere

Drawbacks
Head measurements for this type of cap construction have to be accurate as the lack of any stretch material means that there is absolutely no give.

Variations
As with all full lace wigs, there are variations to this cap design, some of which include:
Thin skin at other points on the cap
The development of different cap constructions for full lace wigs has been a somewhat slow burning affair but the growing popularity of lace wigs naturally meant the development of different cap styles in recent years.
It's easy to be enticed into all sorts of options for your full lace wig construction, without really knowing whether you need (or even want) all the bells and whistles.
The Top Tip for finding your way through the thicket of full lace wig cap designs is to decide: what it is you need, what it is you want and then choose your full lace wig cap construction; after all, it's going to be the hair that you wear.
If you'd like more information you can peruse the Lace Wig Q&A section or if you'd like to be first to read new guides and articles, why not join our blog - it's super easy to do and doesn't require any personal info!

Jump Back to Main Lace Cap Wigs Page

Jump From Lace Cap Wigs To Home Page
Custom Search