Should I Buy Remy Lace Front Wigs? 
(and other remy wig questions)
"Should I buy remy lace front wigs?"
Quite a few folks ask about the merits of remy lace front wigs and determining whether or not anyone should choose a remy or not depends on whether the alternatives (like non-remy hair or synthetic lace front wigs) are viable options... but before we get on to the pros and cons of remy hair; let's first find out a bit about this type of human hair that attracts so much attention
Two Kinds of Remy Hair
Remy hair has the cuticle layer intact and the cuticles all face the same direction; this means that remy hair can be divided into two subcategories:

Remy hair can be completely unprocessed hair (also known as "raw" or "virgin" hair).
Remy hair can be processed hair, which means it may have been, permed, relaxed or coloured. 

Two Kinds of Non-Remy Hair
Non-remy hair can be one of two things: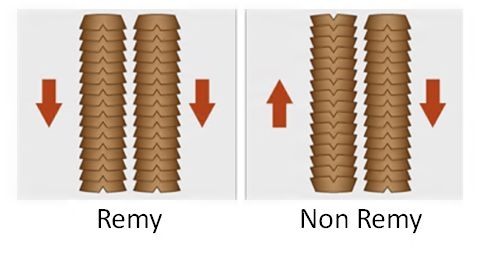 Remy hair (left) and first kind of non-remy hair (right) - where cuticles are present but point in opposite directions
All of the strands of hair have cuticles, but the cuticles point in both directions (some upwards and some downwards)
None of the hair strands have cuticles at all.

Strictly speaking there is at least one more kind of non-remy hair.
Mixed Hair
This is the third kind of non-remy hair and it's where the hairpiece (wig or hair extensions) contains a mixture of both remy and non-remy hair (cuticle non-remy),
Nevertheless, the easiest and often clearest way to express the attributes human hair that is to have a one or the other approach;

It's either 100% 

remy hair or

It's

non

-remy hair
Back to the question: Should you buy remy lace front wigs?
The short answer is if 100% remy hair would make you feel more comfortable and confident - then yes... This however leads to the obvious next question...
Should

non-

remy lace front wigs be avoided?
We're here to give you the information that helps you to make an informed choice (as opposed to laying down the law about the hair you choose to wear) and although there's an article about remy and non-remy hair (which outlines the features and benefits of both types of hair) here are some things to consider when deciding whether to go the remy or non-remy lace wig route:
Most human hair on the market isn't 100% remy – it's typically a mixture of both remy and non-remy (but that's a whole other article).
There are plenty of lace front wigs with all the different lace cap wig constructions (such as silk top (hidden knots) and V-lace front wigs) available from many retailers.
Non-remy lace front wigs are available in the exact same textures as remy lace wigs.
Non-remy hair wigs require the same fundamentals of wig care but with the addition of silicone based styling products in order to ensure that the hair retains the appearance of having lustre and sheen.
Non-remy hair wigs won't dye very well (due to the lack of cuticles) and if you buy a non-cuticle non-remy dyed lace wig then the colour is likely to fade more quickly than it would on a 100% remy hair lace wig.
Not all non-remy hair ends up being severely tangled – there are brands of non-remy hair suppliers which clearly set out that the hair doesn't have cuticles which is why it won't be prone to excessive tangling (there aren't any cuticles to catch on each other).

Non-remy hair is usually (not always) more affordable than 100% remy hair wigs.
Once you've decided how important the above factors are, then you'll be able to decide whether the best type of hair for you is a 100% remy or a non-remy hair wig.

Okeydokey, that's the ride through whether or not to buy remy lace front wigs.
There's more information in the Lace Wig Q&A section or if you'd like to be first to read new guides and articles about lace wigs, hair extensions and hairpieces, join our blog - it's super easy to do and doesn't require any personal info!
25/02/16

Jump From Buying Remy Lace Front Wigs to Q&A Page

Jump From Buying Remy Lace Wigs to Home Page


Custom Search