How Can I Find More Affordable Lace Wigs? 
(Features of lower priced lace wigs)
"How Can I find more affordable lace wigs?"
Finding more affordable lace wigs is really about being more flexible in the type of lace wig you buy. Using our TLC approach, here are a few (texture, length and colour) features that make lace wigs more affordable.

Affordable Lace Wigs… Textures
Natural straight, silky straight, relaxed straight and yaki straight are the standard basic textures for lace front wigs. Natural straight textures are usually the most affordable because the hair has not been subject to an extensive chemical texture changing process...

Naturally straight lace wig, with light waves after washing
"Hang on, what do you mean by 'extensive'?"
We mean that the vast majority of human hair on the market is naturally straight and the naturally straight hair usually has light waves or kinks in it - so suppliers make a decision to do one of two things:
List straight textured wigs as naturally straight to indicate that it's not silky straight (meaning the hair has light waves).
Chemically straighten the hair to make it silky straight (or texturize it further to make is Afro straight or Yaki straight). As the hair was already basically straight, this chemical process isn't particularly extensive.
Anyway, back to textures... Where were we...? Ah, yes; as curly and wavy textures are usually created through chemical means - this processing is a cost to manufacturers and therefore a cost to retailers. 

Affordable Lace Wigs… Hair Lengths
The longer the hair higher the price; it really is as simple as that.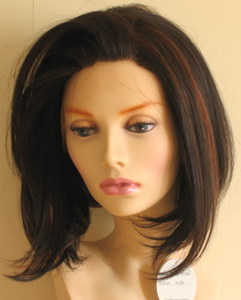 A ten inch lace wig will cost significantly less than a 20 inch lace wig, but if you feel your face shape doesn't suit shorter length wigs, then a ten inch wig might not be a realistic option.
The way to find the most affordable prices in terms of length is to be length-flexible (yes this is a completely made up term, but read on and all will make sense).
If you can determine minimum length that would complement your face shape then choose that length; so if the hair has to reach below the chin then [usually] a 14 inch lace wig will do the trick.

Affordable Lace Wigs... Colours
Yep, it's pretty obvious and a pretty annoying at times, but the mainstay colours are usually the lowest priced.

The vast majority of human hair on the market is somewhere between natural black (not necessarily jet black) and dark brown (yes we know that hair sourced from Russia and other European countries is lighter, but we said the majority of human hair, not the minority).
Manufacturers dye wigs on a large scale but there's still an added cost to the production process.
If you are a DIY hair dyer, then it may be more affordable to buy a naturally darker coloured lace wig and then dye it yourself.

Affordable Lace Front Wigs… Bleached Knots
In recent years, lace wigs (irrespective of the lace wig cap construction) 
included bleached knots as selling point.
Things have shifted slightly for a number of reasons and bleached knots can actually be an added feature as opposed to a standard one - and as anyone who's anyone knows; added features equate to added cost.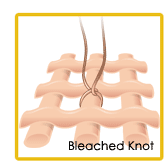 Whilst we're on the subject, it's worth mentioning that bleached knots increase the rate of shedding (you can use all the lock sealer you like) as bleach causes the hair to deteriorate which means it sheds more quickly and that's a fact, not a factoid.
Hmm... So just what should I do if I choose a lace wig without bleached knots?
Well you can use a fabric marker on the areas of the lace that are exposed, or you can use a regular concealer on partings or to blend the hairline with your skin.
That's a wrap on the TLC features that can help you find more affordable lace wigs but the affordability features don't stop there, you can check out the article about cap constructions, remy hair and synthetic options that can also help make lace wigs more affordable.
If you'd like more information you can peruse the Lace Wig Q&A section or if you'd like to be first to read new guides and articles, why not join our blog - it's super easy to do and doesn't require any personal info!
09/03/16

Jump from Affordable Lace Wigs to Q&A Page

Jump From Affordable Lace Wigs to Home Page


Custom Search