Afro Lace Wigs - Texture Guide
Afro lace wigs are a great look for those who want to wear a hair texture that's similar to their own natural hair texture.
You might find Afro textured hair labelled in different ways but whatever the title, the hair texture gives an authentic look of naturally ultra curly hair - Yay!
These wigs are great for those with Afro textured hair who want or need to wear a wig and want to stick to something that's similar to their own hair texture.

So if you've lost your hair through an illness or alopecia or perhaps your growing your own hair and want to stick with the Afro hair texture then the good news is that there are plenty of Afro wigs available for you to choose from.
Some are full lace wigs and others just have lace at the front and we'll use the term lace front and full lace interchangeably as this guide applies to both.

Afro Lace Wigs... Curl Patterns and Sizes
There are looser and tighter curls with Afro hair wigs.
They don't use number-typing terms to describe the curl pattern, so you will have to trust the picture you're looking at as to the type of curl pattern your after.
The curl pattern you choose is entirely up to you and what you like. Since it's an Afro wig, the care you give it will be the same for either tight or loose curls.
Some folks prefer to go for the kinky curly texture instead of smaller Afro curls - if you want a better understanding of the Afro textures available then check out the Afro weave textures page for more info, but the images below shows two type of Afro curl textures available for wigs and hair extensions (click on image to enlarge).

Afro Lace Wigs... Lengths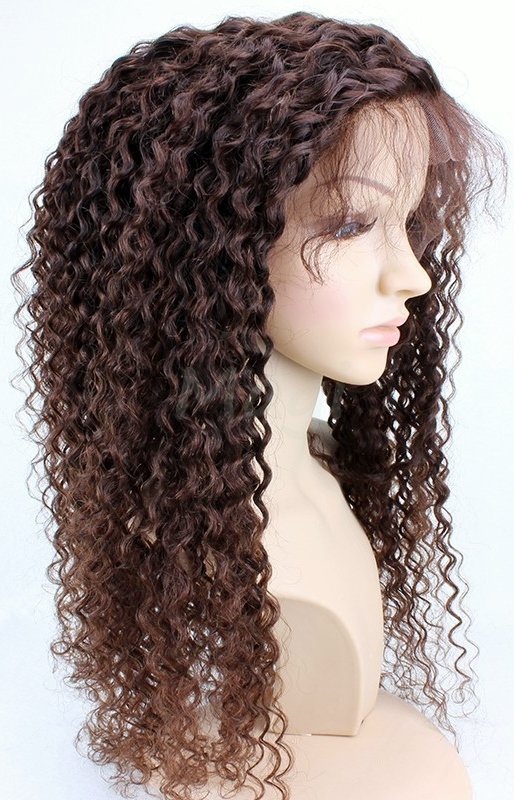 Loose Afro Curl Lace Wig
A key point to remember is the length quoted is the hair when it's straight. So when you see an Afro lace front wig that is 12 inches but it only look like 3 or 4 inches that's the reason - there's a image comparison of length in the article about African American hair extensions.
The length you choose is again personal choice but remember – if you would like to flat iron your hair with hair straighteners then the length you choose will matter.

Afro Lace Wigs... Colours
Here is where you can be creative! Since lace front Afro hair wigs have all the benefits of lace front wigs, you can choose to go for black, browns, honeys or deep reds for your highlights and low lights as it will simply look like you've dyed your own natural hair.
If you're not sure what colour would suit your complexion, have a look at our colour guide for darker skin tones or check out the guide for all skin tones and all hair colours. 

Caring For Afro Lace Wigs
We have guides about how to wash Afro and curly wigs (and prevent tangling), how to moisturize them (without creating frizz), how to select the best oils for keeping the hair soft and how to care for Afro hair weave.
What's more, you can breeze through 5 top tips right here, right now.
1. Try to wash your Afro textured wig on a mannequin head (a polystyrene/Styrofoam head is fine). This gives you complete control over the procedure instead of having to guess if you're washing it right.
2. Use a shampoo for dry/damaged hair (make sure it's for coloured hair if you're wig is coloured in any way – if you're not sure if it is, use one just in case).
3. Detangle with fingers before washing a or use wide tooth comb starting at the ends of the hair (furthest away from the cap). Limit the amount of combing and brushing when dry as this cause more of an Afro puff look - but if that's the aim for your Afro lace wig, then comb away.
4. Avoid products with mineral oils on your Afro curly lace wig wig.
A water based moisturizer that can be sprayed is best.
5. Straightening the hair can distort the curly texture of the hair – (ideally, don't straighten it at all) overusing heat styling tools can distort or damage the texture as the hair has already been processed for texture. Use a low heat setting with the straighter and don't use a blow dryer.
There you have it, your full lace and lace front Afro lace wigs guide. In a nutshell!
If you'd like to be first to read new guides and articles, why not join our blog - it's super easy to do and doesn't require any personal info!


Jump to Lace Wig Textures Page

Jump From Afro Lace Wig Textures to Home Page