Kinky Curly Lace Wigs
aka Loose Afro Curl Texture Guide
Kinky curly lace wigs are just one of the many textures available, it's also known as the loose Afro curl texture... so let's get the low-down on these cool curls...
The kinky curl or loose Afro curl is a great option for those who want a hair texture in the Afro spectrum.
Those of you in the know won't be surprised to hear that not all Afro hair is identical - unlike straight hair, Afro hair has smaller and larger curl patterns and you'll also be glad to know that our store has plenty of options for you.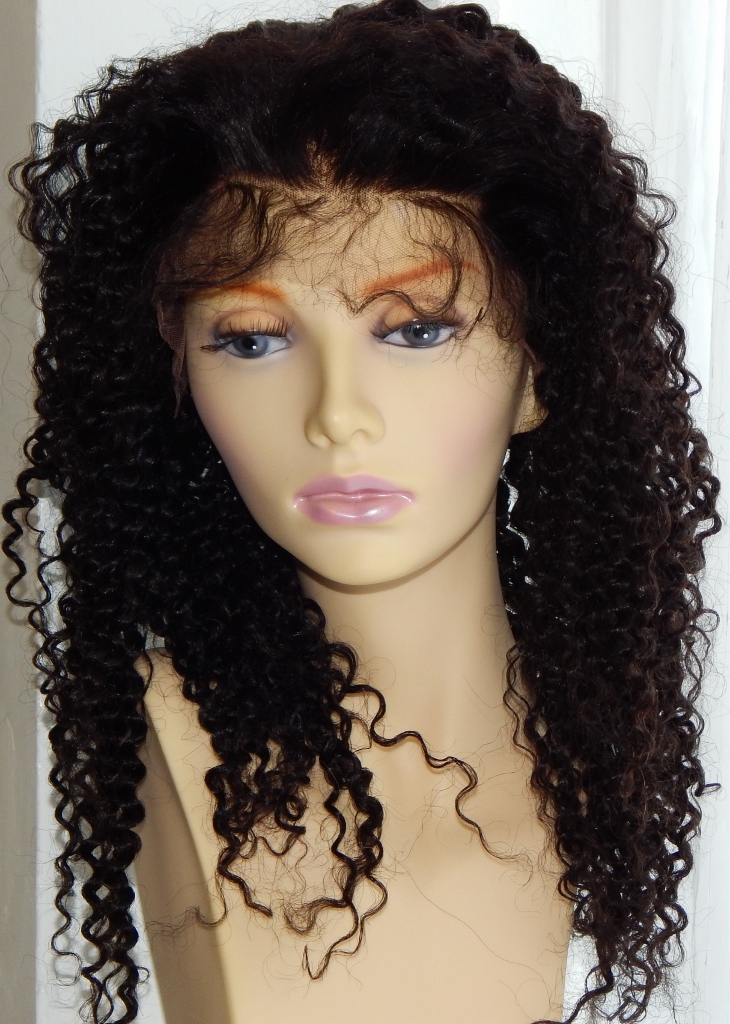 Kinky Curly Lace Front Wig
Who Can Wear Kinky Curly Lace Wigs?
Anyone whose natural hair texture can be found in the spectrum of Afro hair textures can wear kinky curly lace wigs - huzzah!
It's as easy as that. You'll find that some sites list loose Afro curly lace wigs as African American lace wigs or Afro lace wigs, but the fact is, Afro hair has different types and sizes of curls and there are also people with very [small] curly textured hair that is not Afro.
The main thing to do is to look closely at the image in the listing to determine whether the curl pattern is right for you.
On this site, all the images found in the listings are of the exact wig, hairpiece or hair extensions you'll receive through your door and we try to cover all the details.
Focus on the size and type of curl (S-curl, corkscrew etc) and you won't be disappointed.

Loose Afro Curl - Kinky Curly Lace Wigs... Lengths
Kinky curly lace wigs are available in all the standard lengths - so no surprises there - typically 10 – 24 inches, but also up to 36 inches.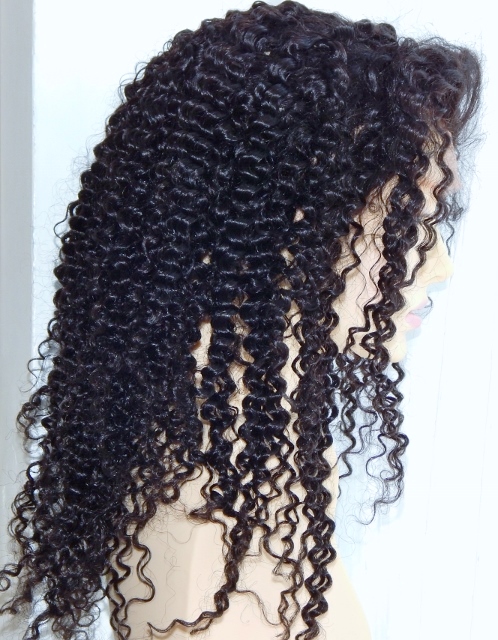 Loose Afro Curly Lace Front Wig
Longer lengths can seem appealing but keep in mind that the longer hair requires a bit more time to manage and care for and a loose Afro curl lace wig at 36 inches will require extra attention... Your extra attention.
Loose Afro curl lace wigs will cost more if the length is beyond 18 inches but that's a standard feature for all hair textures.
Kinky curly lace wigs are available in both Remy and non-Remy versions and there's a certain company that now offers non-tangling-non-Remy hair (that's a tongue twister!)... whilst we haven't tested the product to know whether this is accurate, what we do know is that all hair tangles - even straight textures... why do you think the Tangle Teezer was invented? It wasn't for Afro curly hair(!)

Kinky Curly Lace Wigs... Colours
The most prevalent colours are darker from black to medium browns (colour #8) but there are lighter colours on the market if you're willing to look for them, or have them customised.
Usually the lace wigs can be dyed however always read the small print as some lace wigs won't necessarily take colour (particularly when the cuticles have been over-processed).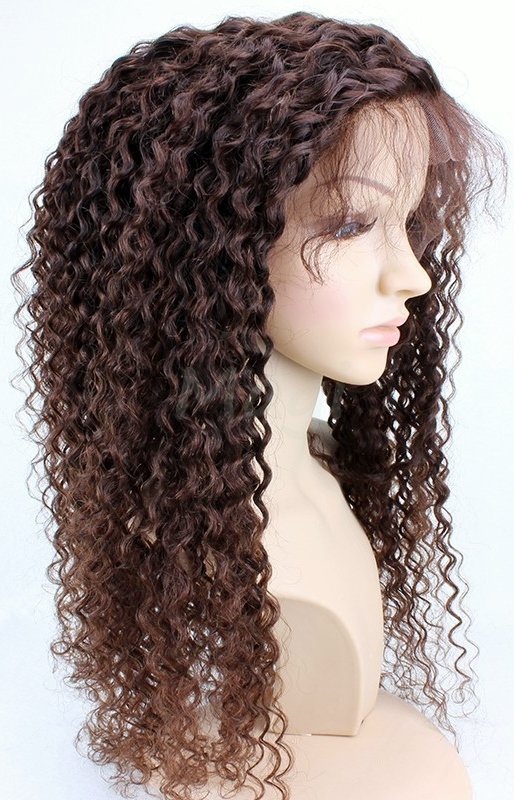 Loose Afro Curly - Kinky Curly wig
It's also worth noting that the lighter colours can often come with higher prices than their darker coloured counterparts as will ombre lace front wigs.
Loose Afro curly - Kinky curly lace wigs are also available as ombre colour schemes and darker base colours with highlights; so you see, you really do have all the choice you could possibly want - yay!


Caring For Kinky Curly Lace Wigs
You can peruse the Peruke's Caring For Wigs Guide and have a look at these top five tips to get you started.
1. Try to wash your kinky curly lace wig using the upright washing method. This reduces the likelihood of tangling and so preserves the lifespan of your kinky curly lace wig.
2. Use a shampoo for dry or damaged hair or one formulated for chemically treated hair (using a shampoo that's suited for coloured hair is also a good idea if you can't find one for chemically processed hair)

3. Only brush your kinky curly lace wig hair when it's dry if you want undefined curls, or frizz. Use a wide tooth comb to detangle and style hair. Try not to over-comb the hair - twice a day should be fine – too much combing causes shedding and frizzing of your kinky curly wig.

4. Avoid products with mineral oils on your kinky curly wig, use plant based hair oils that will keep the hair soft and supple. A water based moisturizer should be used daily or at least every other day. 
5. Avoid straightening kinky curly lace wigs, autif you really insist on doing it then once or twice per month should be the max as excessive heat styling can distort and damage the kinky curly texture of the hair. If you want to use a blow dryer, use the lowest setting.
There you have your five top tips to keep your kinky curly lace wig in tip top shape. It couldn't be simpler!

Stay tuned and keep up to date with the next guide about hair weave, hair extensions, wigs and hair pieces by joining our blog.


 Jump to Lace Wig Textures Page

Jump From Kinky Curly Lace Wigs to Home Page



Custom Search