Curly Lace Wigs - Texture Guide
Curly lace wigs are popular and there are several types of curl patterns out there... but the description of the curl is important depending on the look you want to wear, the good news is our Store has plenty of options for you.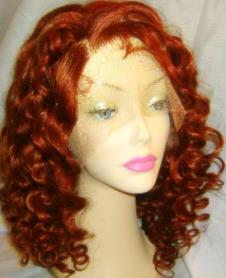 Red curly lace front wig
Who Can Wear Curly Lace Wigs?
Pretty much anyone – hooray! You choose the curl pattern you want by examining the images on the website and then choose which like most.
It's as easy as that. You'll find that more and more names appear for different curl patterns and the wig industry doesn't have a standard index of names for all curl patterns, so just read descriptions closely and look at images to decide if the curl pattern is for you.
The key thing here is not to be overwhelmed by the variety of names instead look at the images of the curl.
 Curly Lace Wigs... Lengths
You'll be able to find curly full lace wigs in a mixture of lengths.
100% Remy lace front wigs will cost you more if it's beyond 18 inches due to the small supply of donors that have that length of hair.
Lengths for curly full lace wigs are typically 10 – 24 inches, even so you'll come across places that offer 8 – 36 inches including us – Hooray!
Remember when choosing a human hair curly lace front wig, you can choose 100% Remy hair for your wigs for human hair wigs or non-remy lace wigs are also an option. 

Curly Lace Wigs... Colours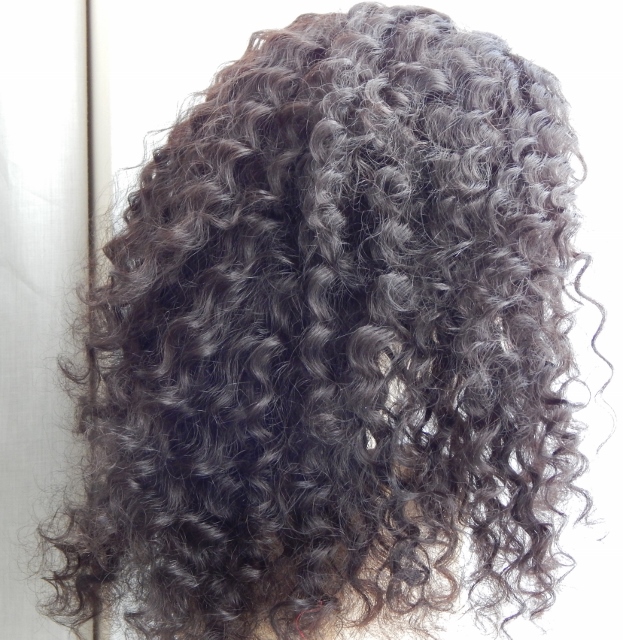 Curly lace wig
Indian, Chinese, Brazilian and Malaysian Remy hair typically come in black to dark brown with the other colours being dyed into the wig.
You can find colours in every shade up to blonde with curly full lace wigs.

It's also worth noting that the lighter colours can be high-priced because of the permanent dyeing process, so you may settle on a darker base colour with 1- 2 highlight colours over about 30% of the wig.

Caring For Curly Lace Wigs
You can peruse the Peruke's Caring For Wigs Guide and have a look at these top five tips to get you started.
1. Try to wash your curly wig on a mannequin head (a polystyrene/Styrofoam head is fine). This gives you complete control over the procedure instead of having to guess if you're washing it correctly.
2. Use a shampoo for dry/damaged hair or for chemically treated hair (make sure it's suited for coloured hair if you're wig is coloured in any way).
3. Don't brush curly hair when it's dry unless you want the curls to be undefined. Use brushes only when wet using a paddle brush or better still a wide tooth comb – too much combing causes shedding and frizzing of your curly wig.

4. Avoid products with mineral oils on your curly wig.
A water based moisturizer that can be sprayed is best.
5. Don't straighten the hair more than once per month as this can permanently distort the curl pattern– ideally don't straighten it at all. If you do straighten, use a low heat setting.
There's the full Monty on curly lace wigs, it couldn't be simpler!

If you want to be the first to know about our next guide about how to make wig or anything else to do with lace wigs, hair extensions or hairpieces, then why not join our blog, it's easy to do and doesn't require an email address.


 Jump to Lace Wig Textures Page

Jump From Curly Lace Wigs to Home Page


Custom Search