When to Use Oil on Human Hair Lace Wigs
(and other human hair wigs)
"When should oil be used on human hair lace wigs?"
Whatever the texture of hair, all human hair lace wigs need oil (in fact all human hair wigs, hair extensions and hairpieces) for the same reasons that natural growth hair needs oil.
Oil that penetrate the hair cuticle help to:
keep the cuticle smooth
keep the hair supple
strengthen the hair
replace lost protein from the hair
All human hair lace wigs (and all human hair wigs) have usually been chemically processed for texture or colour or both (unless the hair is reliably and verifiably classified as "raw" or "virgin".
The chemical processing of the hair alters the actual structure of the hair which means it can be prone to dehydration and becoming brittle. Using an oil that penetrates the hair help lubricate repair the hair which means your human hair wig will last longer.

Part of your lace wig maintenance involves keeping the hair lubricated, supple and soft through oils and moisturizers and the use of oil on the hair can form part of the three different lace wig care areas:
Use Oil on Hair as Part of Your Daily Care Routine

Many oils (like Jojoba and Argan) have vitamin E which is great for hair, so you can use them in your DIY home made moisturizers (90ml water, 10ml glycerine, 10ml oil - mixed in a pump spray bottle) and mist your hair daily before combing through and styling; this works really well for curly hair textures as well as straight and wavy textured wigs.

If your lace front wig hair texture is straight or wavy, you can apply a few drops of oil to your fingers and run them through the hair (not ideal for curly hair textures as it can cause fraying of the curl patterns - unless this part of your styling process and you've yet to apply a curl activator).

If the ends of your hair have become frizzy, a few drops of oil on your fingers will help you to smooth and control the frizz, especially if you wet your fingers with water first.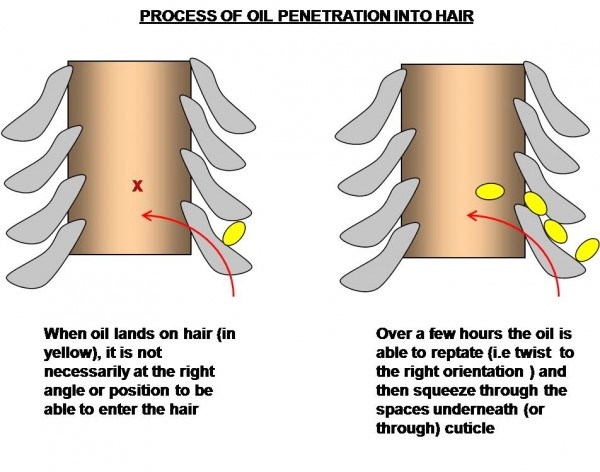 Use Oil On Hair Before Washing
It may seem illogical to put oil on your hair before washing your lace (full or front) wig, but as oils lubricates, it makes hair slippery which helps with detangling hair (because there is less friction between hair strands).
You can put your chosen oil direct onto dry hair (avoid the lace cap), detangle and wash your hair - if you apply too much oil then you may have to use a clarifying shampoo (love the word shampoo - so fanciful!).
If you find that the hair on your wig seems dry despite your efforts to moisturizer, then it might be worth putting oil on your wig hair before it's washed and leaving it on for between 2 and 12 hours. Sound odd? Well it may sound odd, but during the washing process, human hair can become dehydrated and loose proteins (don't ask, that's a whole other article and a bit too detailed to describe here).
By putting oil on your wig hair prior to washing - you can prevent the hair losing more moisture during the washing process; and if that wasn't incentive enough, the oil will also create a shield against any harsh ingredients found in the shampoo such as the dreaded sodium lauryl sulphate and sodium laureth sulphate.

Use Oil on Hair After Washing
Do you remember those adverts for Johnson's Baby Oil and how it should be put onto wet skin to lock in the moisture... well, the same principle applies to hair. Oil seals moisture when put on wet or damp hair.
Again, this applies to any texture of hair; just put some of your chosen oil on the wet hair and distribute it using a wide tooth comb - avoid rubbing or wringing the hair as this can damage the hair strands and as you can tell, this article is all about how to care for hair, not damage it.

Use Oil on Hair After Conditioning and Protein Treatments
Ah, protein treatments - great for replacing lost protein, repairing hair, strengthening hair and restoring hair...not so great for the ol' hydration of hair. Yes folks, protein treatments and conditioners can actually cause hair to dry out.
Applying an oil to the lace (full or front) wig after its been conditioned or had a protein treatment will do exactly what we said it would do in the section above entitled Use Oil After Washing; it will seal in the moisture (water) on the wet hair. You don't need to use vast amounts of, but you do need to it when the hair is still wet or heavily damp.
So there you have it, the four times you can use oil on your lace wig to keep the hair SSSH (supple, soft, smooth and healthy).

There are lots of questions about perukes, so why not check out the Your Lace Wig Questions, Answered section.


From Using Oil on Lace Wigs to Q&A Page

Jump From Using Oil on Lace Wigs to Home Page


Custom Search