How Do I Wash
Kinky Curly Full Lace Wigs?
(and other kinky curly lace wig questions)
"How do I wash and condition kinky curly full lace wigs?"
Washing kinky curly full lace wigs can seem overwhelming, but it needn't be, a few tips and tricks and you'll be a pro at washing your kinky curly lace wig in no time at all. There are three factors when it comes to washing your kinky curly lace wig, how it's washed, how it's conditioned and how it's moisturised during washing....So let's take a look.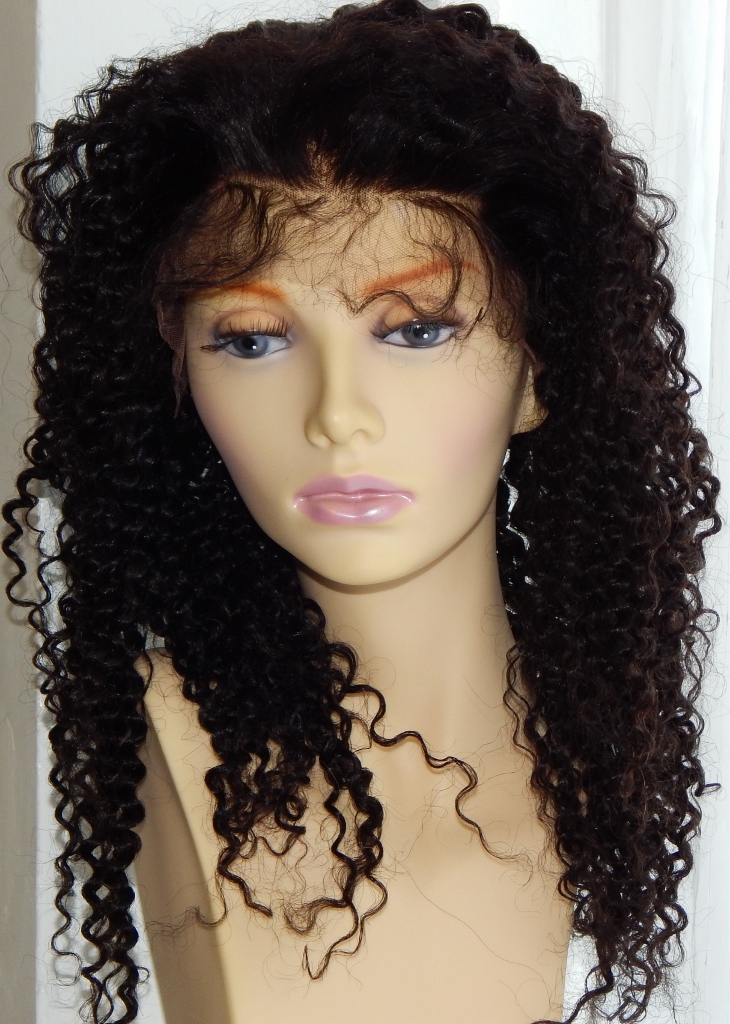 Kinky curly textured lace wig
Kinky Curly Full Lace Wigs...Washing
As kinky curly textured hair can be prone to tangling when washed, the better method to wash your lace wig is the upright method. At the end of washing instead of using a towel, use a wide tooth comb, then allow the lace wig to drip dry in an upright position. This method:
allows you use your fingers to detangle (or a wide tooth comb)
means that the hair isn't rubbed or massaged in a way that creates tangling.
means that the each of the small sections of hair that make up each lock of curls can reform.
Using an anti-frizz serum when the hair is wet is also a good idea but not mandatory.
Kinky Curly Full Lace Wigs...Deep Conditioning

The thing to remember about kinky curly textured hair is that for the most part, the hair has been processed for texture. The chemicals used have already altered and therefore weakened the structure of the hair and so conditioning the hair strengthens it.
Your remy or non-remy human hair kinky curly hair should be deep conditioned at least once every two weeks (but once a week is even better). If you deep condition frequently enough, you won't need to use a leave-in conditioner which will preserve the hair as leave-in conditioners dry out hair and cause it to become brittle (as the protein contained in the conditioner absorbs the moisture from the hair). 
Spray the conditioner onto the hair
Use a wide tooth comb to distribute the conditioner
Place the wig in a plastic bag (that has an airtight seal like a freezer bag)
Wrap the bag in a heat pack.
Place a towel around the heat pack and wig and leave for 30 minutes.


If you don't have a heat pack, then place the sealed plastic bag in a bowl of hand-hot water.

Afterwards rinse the wig using the upright method outlined above and moisturize following the tips below.



Why not check out our guide that offers a more detailed description to deep condition your kinky curly textured hair.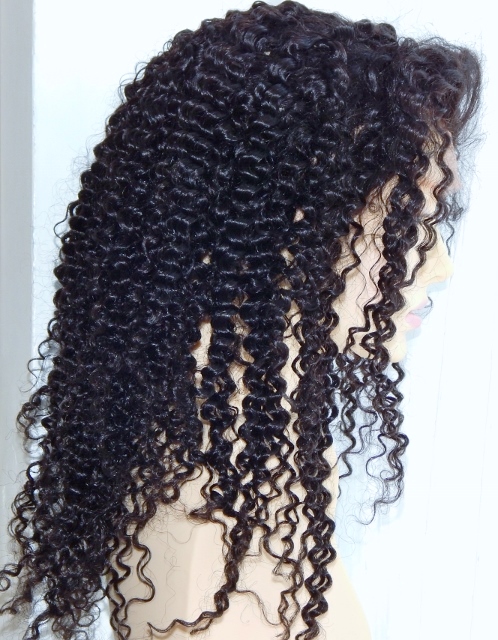 Kinky Curly Lace Wig
Kinky Curly Full Lace Wigs...Moisturizing
Moisturizing kinky curly hair when the hair is still wet is the best way for the hair to reap the full benefits of moisturizer as the water will seal in the oil needed to keep the hair lubricated and soft.
Keep your kinky curly hair nourished by using vegetable or nut oils (like argan oil, coconut oil and almond oil). 

Spray the moisturizer onto the wet hair

Use a wide tooth comb to distribute the moisturizer

Leave to air dry

Avoid any products that contain mineral oil (e.g

. petroleum jelly)
When the hair has dried, if your kinky curly lace wig still seems dry then spraying a light mist of a glycerine and water mix (at a rate of 10% glycerine and 90% water) will help the hair retain moisture without adding any heaviness to the hair or creating any frizz.

Summary of Kinky Curly Textured Hair Care
Follow these top tips to keep your kinky curly lace wig in tip-top shape:
Use gentle washing methods for your wig
Deep condition human hair wigs at least twice a month
Keep the hair moisturised daily with oil free sprays or moisturisers without mineral oils
It may seem like a lot to take in, but it'll become second nature in no time and if you're eager to learn more, then why not check out our guide about combing, styling and daily moisturizing for kinky curly lace wigs.


Jump from Kinky Curly Lace Wigs to Q&A Page

Jump From Kinky Curly Full Lace Wigs to Home Page


Custom Search