Kinky Curly Lace Wig Care
(and other kinky curly texture wig questions)
"How do I care for my kinky curly lace wig?"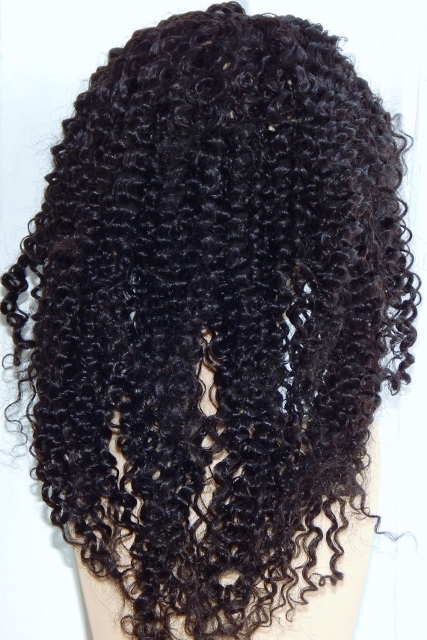 Kinky Curly Textured Lace Wig
Kinky curly lace wig care needn't be complex, but it ought to be consistent.
A key fact to remember is that due to the texture of kinky hair, it always leans towards being tousled and requires a little extra effort to remain tamed. Once we all accept this, we're become free to enjoy the fun, stylish, edgy and chic texture that kinky curls offer.

The key areas in looking after your kinky curly textured human hair (whether lace wig or hair extensions) relate to combing, styling, washing, conditioning and moisturising.
Kinky Curly Lace Wig Care... Combing
There is always an element of fraying with curls of any size but in order to prevent unwanted or unmanageable frizz always, always, always use a wide tooth comb (like a shower comb) and never with a brush of any kind. Combing dry kinky curly hair will create more fraying that becomes frizz.
Detangle with fingers first, always start at the ends of the hair and work your way towards the roots (lace wig cap).
Use a wide tooth comb and start combing at the ends of the hair, working towards the lace wig cap.
Always comb your hair gently, avoid straining or tugging the hair as this causes shedding and distortion of the kinky curly texture.
Don't over comb the hair as it can contribute to shedding of your lovely lace wig!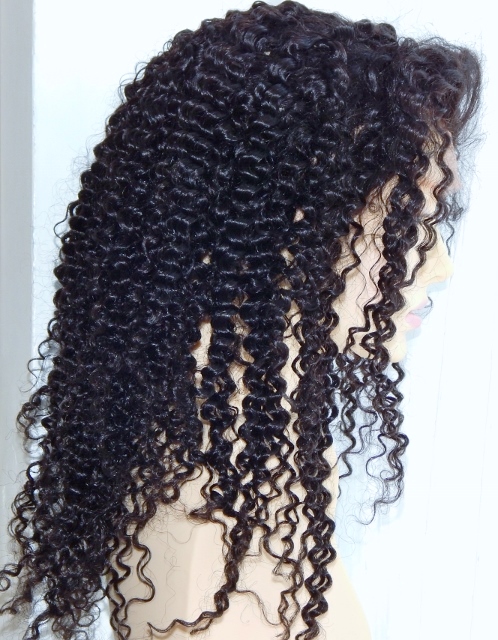 Loose Afro Curl Textured Lace Wig
Kinky Curly Lace Wig Care... Styling
Now when we say styling, we don't mean clips and hairbands and barrettes, we mean curling tongs, wands and straighteners.
There is no easy way of saying this, so we'll just say it. Heat styling tools should be a no-no for kinky curly textured wigs and extensions... there, we've said it. Phew! Feels good to get it out there.
The thing to remember about kinky curly textured hair is that for the most part, the hair has been processed for texture and so excessive heat styling damages the hair shaft.
It's no different to having your own hair curly permed and then frequently using straighteners to make it straight, or having your hair chemically straightened (relaxed or straight permed) and then frequently using curling irons and wands to make it wavy or curly.
The chemicals used to make the kinky curly texture have already altered and therefore weakened the structure of the hair - over time, frequent blow drying and straightening weaken (damages) the hair and shorten its lifespan.
We've said it before but we'll say it again, if you really want two textures then it's worth considering buying two textures.

Kinky Curly Lace Wig Care... Moisturizing
Keep your loose Afro curly hair nourished by using vegetable or nut oils (like argan oil, coconut oil and almond oil) as part of your moisturizing routine. 
Moisturizing kinky curly hair when the hair is still wet enables the oil to seal in the much needed moisture from the water. This will keep the hair lubricated and soft.

moisturised

daily with moisturizing sprays that are mineral oil free or oil free altogether.
avoid any products that contain mineral oil (e.g. petroleum jelly)
opt for a water based moisturiser you can spray…

A water based moisturizer will have water listed as its first ingredient, where an oil based product will list an oil product as its main ingredient.
If your kinky curly lace wig seems dry then spraying a glycerine and water mix (at a rate of 10% glycerine and 90% water) will help the hair retain moisture.

Summary of Kinky Curly Textured Hair Care
Follow the top tips below for combing styling and moisturising your loose Afro curly aka kinky curly hair to keep it in tip-top condition:
Use a wide tooth comb instead of a brush to avoid pulling at the hair (this is good practice even for straight textures).
Use a low heat setting for heat styling.
Keep the hair moisturised daily with oil free sprays or moisturisers without mineral oils
It may seem like a lot to take in, but it'll become second nature in no time. If you're keen to learn more then why not check out our guide about washing and deep conditioning kinky curly full lace wigs.

You can keep up to date with the next guide about hair weave, hair extensions, wigs and hair pieces by joining our blog - no personal info required!


Jump from Kinky Curly Lace Wig Care to Q&A Page

Jump From Kinky Curly Lace Wig Care to Home Page
Custom Search