Body Wave Tape-in Hair Extensions
Texture Guide

Body wave tape-in hair extensions have a wave pattern that is one of the softest created wavy textures (the natural straight texture is even gentler but it's not a chemically created textures).

If you like a little more texture to your hair (as in you want something slightly more textured than silky straight, relaxed straight and kinky straight) then the body wave texture is your best bet.
As the body wave texture has been achieved through perming the hair, different retailers stock different wave patterns due to manufacturers using rods of different diameters - but all end up with loose waves (and you can check out images of the body wave texture on a wig, here).
Body Wave Tape-in Hair Extensions... Will They Blend?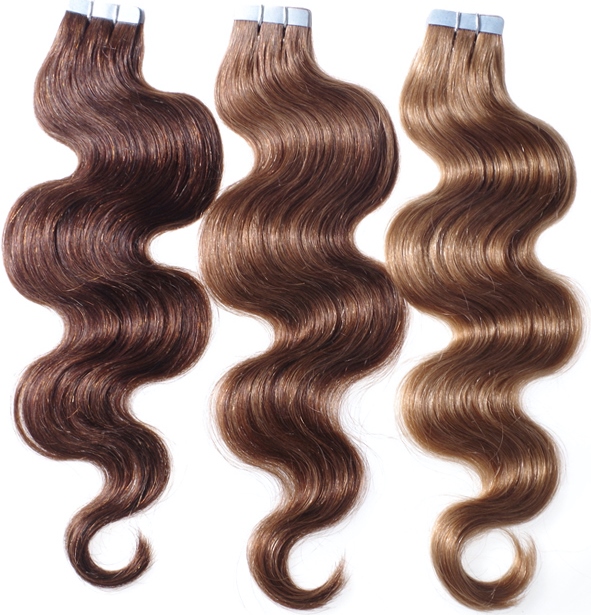 Body Wave Tape-in Hair Extensions
Blending your tape in hair with your growth hair is essential for a seamless look.
Unless your natural tresses are identical in wave pattern to your chosen body wave tape in hair extensions, there will be some work on your part to blend your growth hair with your tape-in extensions.
The body wave texture is what you might call a universal texture, so whatever your natural hair texture if you straighten it, you can then add waves to blend it.

Lengths for Body Wave
Tape-in Hair Extensions
If you've read any of our other articles on tape hair textures, then you'll be well versed in the fact that hair extensions are available in lengths ranging from 8-26 inches; and if you've read any of the other guides a on tape-in hair textures, you'll also know that longer lengths are available, but will require that you play the seeker, as they play the hider and that you keep seeking until they're sought!
When choosing your length, it might help to choose your length based on your final cut and style and if you're unsure about which hair lengths complement which face shapes, then check out our wigs by face shape guide - yes it says wigs but it's more about hair lengths and face shapes.

Hair extension enthusiasts will be aware that you can choose remy hair or non-remy hair for your tape-in extensions and what's more, you can even find the new branded no-tangle non-remy (it's true, we saw it first hand).

Sets For Body Wave
Tape-in Hair Extensions
Body wave tape-in hair extensions usually come in sets of 20 or 40 pieces, all of which are the same length.

Colours for Body Wave
Tape-in Hair Extensions
There is a feast of colours available for body wave tape-in hair extensions, with colours 1, 1b, 2, 4, 6, 8, 27, 30, 33, 99j, 613 (blacks, browns burgundy and blondes in old money) as well as ombre, tricolours, green, turquoise (no joke) dip-dye, copper and more besides.
If you'd like tips as to which colours complement your complexion then why not check the hair colour and skin tone guide.
When buying online, check the listing description and images as different monitors display colours differently and not all retailers allow hair extensions to be returned.

Caring for Body Wave Tape-in
 Hair Extensions
If you haven't already, why not perused Peruke's guide to Caring For Tape In Hair Extensions and cast your eyes over these top five tips to get started.
1. As the tape in hair has been chemically treated to achieve its texture, use a shampoo for chemically treated hair when you wash your tape-in hair extensions and either use a leave-in conditioner or deep condition to repair and strengthen the hair.
2.  As the hair has been chemically treated to achieve texture, it's better not to use heat straighteners frequently at it can sometimes prevent the wave pattern from returning its uniform wave state.

3.  Keep tape in hair (and your growth hair) moisturized, using a light moisturizer that's free from mineral oils.
4. Smooth fly-away hair and soothe dry ends by using hair nourishing oils on damp hair.
5. Use a dry shampoo in between washes to remove build-up and avoid getting any hair extension products on the adhesive tape part of the tape in hair extensions as these can cause the adhesive to disintegrate and possibly mat with your growth hair.
A belt and braces bound through body wave tape-in hair extensions, sorted!


If you want to keep up to date with the next guide about weave hair, wigs, hair extensions and hairpieces then join our blog, or check the Hair Extensions Q&A section.
01/04/16

Jump to Tape-in Hair Extensions Texture Page

Jump From Body Wave Tape-in Hair Extensions to Home Page



Custom Search