Tape Extensions Daily Styling Guide
(Part One of Three - Daily Styling)
"What hair extension products should I use to look after tape-in hair extensions?"
Welcome to the Tape Extensions Daily Styling Guide where you can find out which tools and products can help you style and maintain your tape-in hair extensions.
Tape extensions (also called adhesive tape in hair extensions and skin weft hair extensions) require care and this means using hair extension products in the right way so that they don't impact the adhesive tape at the top of the hair weft.
There's a lot to consider, but you guys are in good company as we've put together a run through of the right products for tape in hair extensions - hooray!

It might be easier to think about maintaining human hair extensions as three different areas; daily styling; washing; and conditioning nourishment for skin weft hair.

Tape Extensions Daily Styling Tips
If you're a tape hair extension newbie, you might find the info in this guide discombobulating, so if you only remember one thing, it should be this: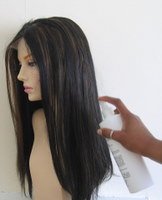 Use styling products from mid length on tape in hair extensions
Keep all styling hair products away from the adhesive tape part of the hair extensions.
They may contain ingredients that could cause the adhesive (tape) area to disintegrate, become sticky or cause your growth hair to mat.
OK, down to business.
You can basically use whatever hair styling products you wish - gels, mousses, sprays, mousses and the like but it's essential to only use them from mid length down on tape in hair extensions and avoid getting any hair styling products directly on the tape itself.

If you start at the midpoint, you won't have to worry if you make a mistake and some of the hair product goes above the midpoint as it will still be well clear of the adhesive tape part of the hair weft.

Tape Extensions Daily Styling... Using Moisturizers and Oils
Human hair extensions (and your own growth hair, for that matter) require moisture in order or it to maintain elasticity and prevent the hair from becoming dry and brittle.
Moisturize your tape in hair extensions on a daily basis. This doesn't mean smothering it in moisturizers or serums; a light misting from the midpoint downwards is fine (or spray it onto your fingers and then smooth downwards).
If you prefer cream moisturizers then pour a small amount onto the tips of your fingers and smooth the moisturizer downwards
A water-based moisturizer (free from mineral oil) is best as it will mean that the hair isn't coated in oils (a water-based moisturizer is one that lists water as its first ingredient).
If you use a hair moisturizer that contains oils then opt for plant-derived oils or butters as these are better for hair and remember that oils are also used to remove adhesive residue from tape hair extensions; so limit their use to smoothing frizzy or dry ends.

Need a quick fix of moisture for your tape-in hair extensions?

Human hair skin weft hair extensions can become dry easily because the hair has (usually) been chemically processed to produce the hair texture or colour.
A quick fix is to fill a spray pump full of 90% water and 10% glycerine and lightly mist your skin weft extensions from the midpoint downwards or just the tips if they've become dry.
Whatever you choose to moisturize and style your tape in hair extensions, you should always use less than you think you'll need.
This way you'll reduce the amount of product build up in the hair so you won't need to wash the tape in hair extensions too frequently.

Tape Extensions Daily Styling... Combs and Brushes
We know what you're thinking and you're right; technically these aren't daily styling products but they are daily styling tools, so we're not that far off the mark.
Large Tooth Comb
Use large tooth combs (not the same as wide tooth) on straight and soft wavy textured tape in hair extensions.
Use wide tooth combs on wavy and curly hair
Brushes can be used on straight and soft wavy hair
Brushes aren't ideal for wavy or curly textures as the waves and curls become less defined and the hair will look more voluminous.
Avoid brushes with little balls at the ends of the bristles as the balls can catch on the tape area and tug at the extensions and your growth hair.
Hair is weakest when wet and so avoid combing wet tape in hair extensions.

OK, daily styling products and tools for tape in hair extensions done and dusted, but your guide to tape in hair extension care isn't over yet, you can read guides about how to wash tape hair extensions and how to use nourishing hair oils on tape hair extensions.

If you want to keep up to date with the next guide about tape in hair extensions, other kinds of hair extensions, wigs and hair pieces then join our blog, or check the Hair Extensions Q&A section.
Bis zum nächsten Mal!
31/03/16

From Tape Extensions Daily Styling to Main Care Page

From Tape Extensions Daily Styling to Home Page



Custom Search