How To Care For
Tape In Hair Extensions
(An overview of caring for tape extensions)
 How To Care For Tape In Hair Extensions 
Tape in hair extensions (also called adhesive tape extensions and skin weft hair extensions) have to be cared for in a way that might be described as tape-centred.
What do we mean by that? We mean that there are styling products and tools that shouldn't come into contact with the adhesive tape tab at the top of the weft. It also means there are methods of care and styling that should be used to avoid damaging the adhesive tape tab at the top of the weft.

The approach to caring for skin weft hair extensions should be to care for the hair (and growth hair) in a way that doesn't impact the adhesive tape as damaged tape often leads to tangling or matting of growth hair.
Below is a walkthrough of the basics of tape in hair extension care and the links are to articles that go into more detail and have step by step guides.

Daily Styling Tips For Tape In Hair Extensions
You can check out the in-depth guide about styling products and tools for tape hair extensions and use the following top tips to get started.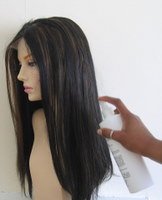 Use styling products from mid length on tape hair extensions
Using Styling Products and Moisturizers on Tape Extensions
As styling products may contain ingredients that could cause the adhesive tape to disintegrate, keep all styling hair products away from the tape tab and apply them from the midpoint downwards.

Regularly moisturize your tape extensions with a water-based (mineral oil free) moisturizer.
Apply a light misting from the midpoint downwards (or spray it onto your fingers and then smooth downwards).
Combs and Brushes for Tape In Hair Extensions
Large Tooth Comb
Detangle from the ends first using fingers and use large tooth or wide tooth combs.
Avoid brushes with little balls at the ends of the bristles as the balls can catch on the tape area and tug at the extensions.
The area between the scalp and the actual tape attachment point should not be brushed or combed.

Washing
You can check out the step by step guide to washing tape hair extensions and use the following pointers to get started.
There is less chance of tangling and more control over the washing process if the hair is separated into two loose ponytails.

Detangle while the hair is dry, starting at the ends and working up towards the tape area of the skin weft hair.
Avoid pouring shampoo directly from the bottle onto the tape panels.

You can use a dry shampoo for in between washes to remove any build-up or excess oil. .

Hair Oils and Conditioners
There's an in-depth guide to conditioning nourishment for tape extensions and you can use the following pointers to get going.
Hair Oils
Hair oils can be used for several reasons including smoothing frizz (or dry ends); they can also be applied to damp hair to seal in moisture.
The best hair oils are those that are derived from plants.

Whenever oils are used, they should be applied from the midpoint downwards only and kept away from the tape panel as oils are used to remove adhesive residue from tape hair extensions).

Conditioners
As conditioners are also used to remove adhesive residue (breakdown glue) from hair extensions, always keep conditioners away from the tape area of your hair extensions.
Conditioners should not be used on the scalp or any hair between the adhesive tape and your roots.
Deep condition from the mid length to the ends of your tape extensions

That covers the broad themes of tape in extension hair care and if you'd like to keep up to date with the next guide about tape in hair extensions, other kinds of hair extensions, wigs and hair pieces then join our blog, or check the Hair Extensions Q&A section.
02/04/16

From Tape Extension Care to Q&A Page

From Tape In Extension Care to Home Page


Custom Search