Are There Different Types
of Wavy Full Lace Wigs?
(and other wavy lace wig questions)
"Are there different types of wavy full lace wigs? I don't want curls but don't want body waves, what else is there?"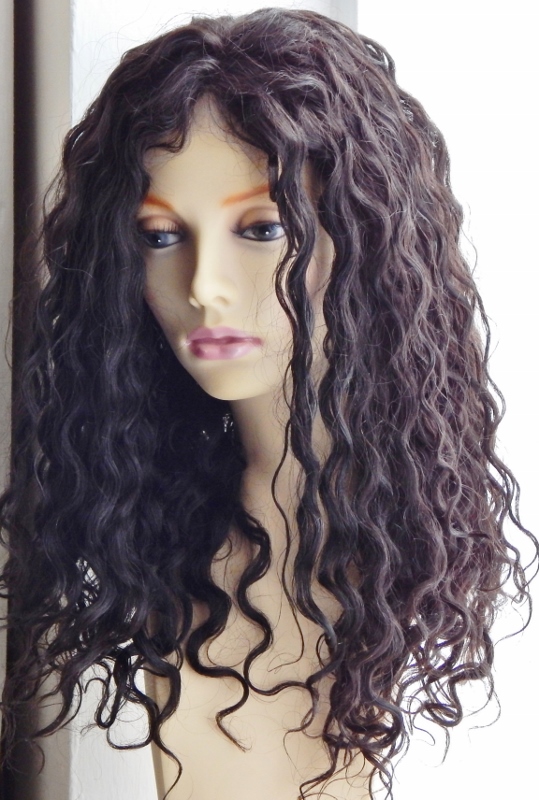 Wavy lace wigs - water wave texture
There are different types of wavy full lace wigs (and wavy lace front wigs for that matter).
Technically, any texture that doesn't form a spiral pattern (and of course is not straight) is basically a wavy pattern. The body wave texture is the most subtle form of wavy hair.
It's a popular wave texture for lace wigs as it automatically adds volume to the hair - basically if you have two lace wigs that are the standard density of 120% - 130% and one is silky straight and the other is body wave in texture, the body wave lace wig will look fuller.
OK, so body wave basics aside, there are other wavy textures that are also popular. The next wave pattern is the water wave texture.
This is a wavy texture where the waves are closer together. Again its popularity is in the fact that its textured nature adds volume and shape. It's also popular with those whose growth hair is either naturally curly or wavy.
Another common wavy hair texture is the deep wave texture - again the deep wave is so called because its wave pattern is...well... deeper. The wave pattern is so pronounced that at a distance (and even quite close up actually) the texture looks like it could be curly and frequently those who seek kinky curly hair textures or Jheri curl textures will choose a deep wavy full lace wig because of its similarity to small spirals.

Wavy lace front wigs - deep wave texture
There are other types of wavy textures which have similar names or newly created names like spring curl, deep curl, kinky curl, Brazilian curl, loose curl and many, many others, but the thing to remember is what the word curl actually means in terms of hair texture; curls means spirals or circular patterns. Waves aren't curls (no matter how deep) and curls aren't soft zig-zags.
This is important to remember because if you're choosing a curly lace wig you should be able to measure the diameter of the curl, but you can't do this with a wave because waves do not have a circular pattern; they have a wavy pattern (up and down, not round and round).

"I was looking for body wavy full lace wigs, but noticed that the wavy textures varied. Are all body wave textures the same?"
Whether in lace wigs, hair extensions or hairpieces, not all body wave textures are the same.

Wavy synthetic lace wigs - deep wave texture
The reason for this is the same reason that you can go into three different stores and buy the same sweater in the same size and yet they will be bigger or smaller; it's a manufacturing thing.

Different manufacturers will "make" a body wave texture differently; the fact is they will make all the wavy and curly textures differently.

The thing to remember about wavy and curly lace wigs and hair extensions is that for the most part, the hair has been processed for texture (unless the manufacturer has specifically states that the donor hair has not been processed to change its texture).
The same principle applies for synthetic hair lace wigs in that different manufacturers have specifications as to what each texture should look like.
"How do I wash wavy full lace wigs?"
There are two main methods outlined on this site for washing hair; the sink method works well for straight and wavy textures but if you're concerned about tangling use the upright washing method but instead of a pump spray, use your shower.

As always, remy and non-remy human hair wigs and extensions require deep conditioning with a conditioner specifically for chemically processed hair. 
If you have a synthetic hair wavy wig, then you can use a mild shampoo with either of the above methods.

There's more information in the Lace Wig (and traditional wig) Q&A section as well as the navigation menu, or if you'd like to keep up to date with the next guide about hair weave, hair extensions, wigs and hairpieces then join our blog – no personal info required.


Jump from Wavy Full Lace Wigs to Q&A Page

Jump From Wavy Full Lace Wigs to Home Page


Custom Search