Look Pretty In Pink Hair Extensions
What Are The Types Of Pink Hair Extensions?
If you'd like to make your look a little more edgy then pink hair extensions are an easy way to achieve a different look.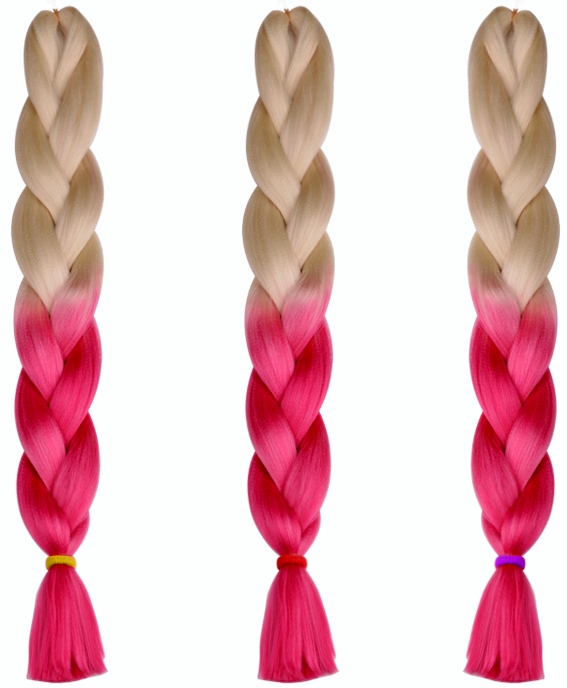 Dip-Dye Blonde and Pink Hair Braiding Extensions
You can go for something disposable such as clip-in hair extensions. These are great because they can be taken out each day without damaging your own growth hair.

They come in lengths from 6 inches to around 22 inches so no matter what your growth hair length, there's something for you – oh and they're made in mainly synthetic hair versions.

If you want a semi-permanent look then why not opt for pre-tipped hair extensions, using a heat fusion method.
If you find fusion a bit daunting then why not look for pink micro ring hair extensions which allow the semi permanence of fusion hair extensions but with none of the glue.
Braid lovers, you can also braid pink extensions into your hair - a favourite of mine.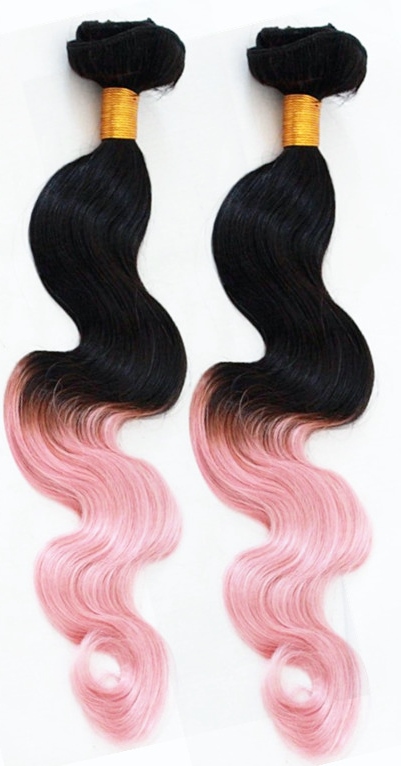 Ombre Pink Weave Hair Extensions
If you're into dreads then why not make your look really funk? The good news for you is that, you can buy pink dreadlock extensions to alter your look.
You can also choose how much pink hair you end up having as they're available in single and multi-clip varieties.

Who Can Wear Pink Hair Extensions?
They're suited to everyone and the best thing about these is that if you're not keen on your young teenagers or even tweenagers wearing fusion hair extensions then you can easily choose a pink coloured clip-in hair extension that they can take out for school and just wear it on weekends.
Hair extensions (whether braided, bonded, clamped, fused or wigs) give you the freedom to experiment and although not a traditional hair colour, it might be worth checking out the hair colour and skin tone guide which outlines the different skin tones and the hair colours that work best with each.

If you have a cool undertone to your skin colour then go for deeper pinks.
If you have a warmer undertone to your skin then fuchsias and hot pinks will work well.

Pink Hair Extensions, Pink Lengths...
If you're not sure what length would suit you, then check out our hair extension lengths by face shapes guide for the lengths that suit different faces.
When choosing the length, it might help to think about the shade of the pink and whether it's a solid colour or dip-dye look - as your look will be dictated by what colour hair is framing your face. 

If it's a bright and vivid pink then a shorter look might work better.

If it's a pastel shade of pink or a pink hue over blonde hair, then shorter or longer lengths won't seem overly dramatic.

If you love long lengths then your pink extensions might work better as ombre, dip-dye or T-colour looks.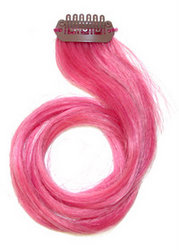 Pink Clip In Hair Extensions
Why Choose Pink Hair Extensions?
It's simple really, when you think about it, if you were to use a permanent dye on your growth hair then you risk damaging it due to the bleaching that's required.
This way you get a hot and fresh new look without any of the worry about damaging the health of your growth hair. 

It's one of the reasons that folks regularly use colored hair extensions to change their looks...
It's safe, simple and easy!
You'll be able to find all sorts of extensions in all sorts of colours at our store.
If you're after more information on coloured hair extensions, check out our Hair Extension Q&A section or join our blog, it's easy to do and doesn't require any personal info - yay!


Back to Hair Extensions Q&A

Jump From Pink Hair Extensions To Home Page


Custom Search