The Super
Synthetic Hair Extensions
Synthetic hair extensions provide a versatile alternative to human hair extensions.
They come in a variety of colours that can match your own hair and they are usually cheaper than human hair extensions too…
...But there are still a few questions you have in mind… Well hooray because we've got the answers!
Who Can Wear Synthetic Extensions?
Anyone can where these hair extensions.
It doesn't matter the texture of your hair, there will be a type of extension that is right for you, be it the clever clip in hair extension, the marvellous micro ring hair extension the wonderful hair weft for weaving or indeed braided extensions.
It doesn't matter your age; you can find the right synthetic extensions for you.

How Can Synthetic Extensions Be Styled?
Because the hair is synthetic, in general it cannot be heat styled.
However if you use the new monofibre hair extensions then you can use a blow dryer as a heat styling method.
Our top tip is to ask your supplier and read instructions fully as to whether your particular brand of synthetic hair extension can be heat styled.


Can Synthetic Hair Extensions Be Washed?
Yes they can. In order to preserve your look, it's always an idea to wash from top to bottom and not be too vigorous with your shampoo.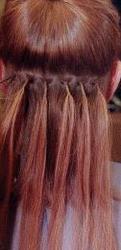 How Long Do Hair Extensions Take To Put In?
Clip in hair extensions can be done in a matter of minutes, however the other methods can take 4 - 8 hours depending on the skill of the hair dresser and how many people work on your hair at one time.


Are Synthetic Hair Extensions Safe?
We know many sites will say, all hair extensions if properly applied are safe but that's not entirely true.
Whilst artificial hair extensions can weigh a third of human hair, you should still make sure that you avoid too much bulk to avoid traction alopecia. The weak areas of the hairline are the temples and the perimeter.
We recommend that it is worth giving your scalp a rest between applications because prolonged use over time can weaken the root of the hair, as well as not wearing extensions for more than two months at a time.
After all, this is where all the weight of the hair is most felt – on your scalp so look after your scalp and it will look after the hair that you have.
By having regular breaks from wearing non-clip in extensions and by nourishing your growth hair, you'll be able to enjoy hair extensions for many years.
If you want to keep up to date with the next guide about hair weave, hair extensions, wigs and hair pieces then join our blog, or check the Hair Extensions Q&A section.


 Synthetic Hair Maintenance Back to Main Artificial Hair Page

Jump From Synthetic Hair Extensions to Home Page


Custom Search