Kinky Curly Hair Weave Aka Loose Afro Curl
Texture Guide
Kinky curly hair weave is a texture which is sometimes called loose Afro curl or sometimes Jheri curl (often spelled as as Jerry, sorry to all the Jerrys out there!).
The kinky curl texture has slightly larger and more visible curl pattern than a straight forward Afro (type 4B-C if you find the classification helpful) hair texture which is why it's also called, loose Afro curl.
Kinky Curly Weave Hair
Who Can Wear Kinky Curly Hair Weaves?
The loose Afro curl - kinky curl is a great option for those who want a hair texture in the Afro spectrum.
It's also for those who have small corkscrew curly hair textures.
This all goes to say that whether you have very curly hair or ultra curly hair (Afro) and you like small curls, then you can rock kinky curls too.

Lengths for Kinky Curly (Loose Afro Curl) Hair Weaves
Just because the hair texture is curly, doesn't mean you can't get long lengths!
If you've read any of our other articles on weave hair textures, then you'll be well versed in the lengths available, but if you haven't, read on.
Loose Afro curly - Kinky curly weave hair is widely available in lengths ranging from 8-28 inches.
Longer lengths are available you might have to take on the role of seeker as those longer lengths do like to hide... but don't give up, you'll eventually win and find them.

When choosing the length of kinky curly weave hair, remember that the length quoted (for curly and wavy hair) is the length the hair measures when straightened (stretched) - there's a measurement guide that explains this.
Sets (Bundles) For Kinky Curly Hair Weave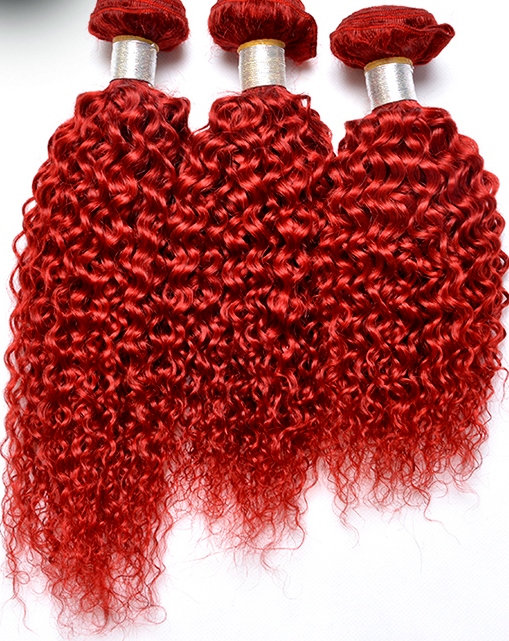 Red Loose Afro Curly/Jerry Curl Weave Hair
Kinky curly hair weave comes as solo bundles as well as multiple bundles of different lengths.
Hmm... Just why might you want weaves of different lengths? This makes a difference if you're aiming to have one overall weave hair length or layers and you can see the value of multiple length sets in the guide about making a wig from weave hair.
Bundles are available as sets of two, three or four different lengths like 14 inch, 16 inch, 18 inch & 20 inch.

Kinky Curly Hair Weave Colours
The most prevalent colours are darker from black to medium browns but don't worry, there are other colours available like 27, 30, 33, 99j, 613 (coppers, burgundy and strawberry blondes) as well as red, ombre, green, tricolours, blues, highlights, grey, dip-dye, pastels, T-colours purples to name but a few.
If you have a darker skin tone and would like some tips as to which colours complement your skin tone then why not check the hair colour guide for darker skin tones.
If you're unsure as to which colours would complement your skin tone, why not check out our guide to hair extension colours and skin tones.

Dip-Dye Loose Afro Curly Hair Weave
Caring For Kinky Curly Hair Weave
You can peruse Peruke's Caring for Weave Hair Guide for an overview of daily styling, combs and brushes for weave hair and use the following five top tips to get started.
1. As the hair has been chemically treated to achieve texture, it's better limit the use of heat straighteners as frequent use can sometimes damage the wave pattern and the hair.
2.  Use a shampoo for chemically treated hair when you wash your weave hair and either deep condition or use a leave-in conditioner to repair and strengthen the hair.

3.  Smooth dry hair by applying nourishing hair oil to damp hair.

4. Moisturise regularly with a mineral oil free moisturizer to keep the hair hydrated and prevent it from becoming dry.
5. If you have glue-in weave hair then it's best to use a dry shampoo and avoid getting any hair extension products anywhere near the glued tracks as it can cause the glue to disintegrate and possibly mat with your growth hair.
That's the whole kit and caboodle for kinky curly weave hair.

You can find more information about weave hair at our Hair Extension Q&A section or you can join our blog.
16/02/16

Jump to Weave Hair Textures Page

Jump From Kinky Curly Hair Weave to Home Page



Custom Search