How Do You Clean
Glue In Hair Extensions?
(Part Two - Washing and Conditioning)
"How do you wash glue in hair extensions?"
The process for cleaning glue in hair extensions is entirely different to the process for washing sew-in hair extensions… and you'll probably have already noticed that we said "clean" and not wash glue in extensions; the difference in terms is central to how the cleaning processes for each type of attachment differ (and just like in part one we'll clarify that this article is about glue in hair weave and not pre glued hair extensions).
Much like the daily styling tips for glue in hair extensions if you remember nothing else, remember this:

Keep shampoo and conditioning products away from the glued area of the hair extensions.

Washing (Cleansing) Glue In Hair Extensions

When it comes to cleaning your glued in extensions, you essentially have two options:

Not to wash the hair extensions with water.

Wash the part of hair extensions that are nowhere near the glued tracks.
If you choose option one, then you've been cordially invited to the world of dry shampoos - there are several brands.
If you choose option two, remember that styling products, oils, shampoos and conditioners can cause the glue bonds to weaken, disintegrate or become sticky which could lead to your growth hair becoming matted or the hair extensions to coming away from your hair.

Conditioners and oils are regularly used to remove glued in hair extensions.

If your glue in extensions fall below your shoulders then it is possible to wash the hair in a conventional sense from the midpoint downwards… Be the tortoise and not the hare in this scenario; there's no point in rushing and getting cleansing products on the tracks.
In fact there's also no point in washing the bottom part of your hair under a shower unless you plan on wearing a swimming cap to keep your head (and glued tracks) dry.

Conditioning Hair Extensions Products for Glue In Extensions Hair
You can use whichever conditioning products you wish as long as you keep them away from the glued area of your hair extensions.
There are different types of bonding adhesives but your bonding glue may be affected by the ingredients in moisturizers, shampoos, mousses, hair oils, serums and conditioners – and as mentioned before, conditioners are frequently used to help remove glued-in hair extensions.
So unless you're planning on removing your glued-in hair extensions, it's best to avoid getting any hair conditioning products on the glued (bonded) areas of your hair extensions (the tracks).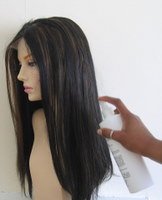 Spray leave-in conditioners from midpoint downwards
You can deep condition from the mid length to the ends of your glue-in hair extensions by applying conditioner to damp hair extensions, distributing with a shower comb (or fingers), towel wrapping and leaving for up to two hours and then rinsing.

Alternatively you can use a leave-in conditioner by lightly misting the hair from… Can you guess? Let's all say it together…
The midpoint downwards...yay!
As conditioners have the ability to dry out human hair, remember to either use water based moisturizer afterwards or apply a small amount of hair oil onto the ends of the hair (not mineral oil but plant-derived oils or butters) as this will help smooth dry ends and seal moisture into the hair.

That was a trot through cleaning and conditioning glue in extensions and if you'd like to know which products can be used to care for your glued in hair extensions, then check out the guide, solely dedicated to styling products and tools for glue in hair extensions.
There's more information in the Hair Extensions Q&A section or if you'd like to keep up to date with the next guide about hair weave, hair extensions, wigs and hairpieces then join our blog – no personal info required - hooray!
25/02/16
From Cleaning and Conditioning Glue In Hair Extensions Care to Q&A Page

From Cleaning and Conditioning Glue In Hair Extensions to Home Page




Custom Search