How Do You Care For
Glue In Hair Extensions?
(Part One - Daily Styling Products)
"How do you care for and maintain glue in hair extensions?"
Caring for glue in hair extensions is essential to maintaining them and maintaining the health of your own growth hair.
There are many arguments for and against this method of attachment, but the fact is they're widely used and if you'd like to find out the best way to take care of them, read on (oh and just to clarify, this article is about caring for hair weave extensions and not pre glued hair extensions).

Glued part of hair weft
There's quite a bit of detailed info below, which can seem daunting if you're a newbie to the hair extension world, so if you only remember one thing, it should be this.
Keep all styling, cleansing, conditioning and nourishing hair products away from the glued part of the tracks. They are likely to contain ingredients that will cause the bonded area to disintegrate, become sticky or cause your growth hair to mat.

Daily Styling Tips For Glue In Hair Extensions
You can basically use whatever hair styling products you wish - sprays, mousses, serums, gels and the like the key is always to only use styling products from mid length down on glue-in hair weave.
Why shouldn't they be used closer to the glued tracks? Glad you asked; it's because liquids and gasses travel and you really don't want to fly too close to the sun – think about Icarus, it didn't go down so well… although he did...tee hee.
If you start at the mid-point, you won't have to worry if you make a mistake and some of the hair product goes above the mid-point as it will still be well clear of the glued area of hair weave.
Different websites offer different advice but here's the thing: your chosen bonding glue may be affected by the ingredients in styling products and you don't want anything to cause the glue to weaken, become sticky or disintegrate.

Using Moisturizers and Oils on Glue In Hair Extensions

Human hair and therefore human hair extensions need moisture in order or to maintain elasticity and prevent the hair from becoming dry, brittle and eventually forming split ends or breaking.

Use a water based moisturizer (free from mineral oil) on a regular basis. If it's a cream moisturizer, use your fingers to apply a small amount to your own growth hair in between the glued tracks (if needed – not all hair is dry).
You'll also be able to apply cream moisturizers slightly higher than the mid-point because you're controlling the application with your fingers.
Always apply less than you think you'll need because as a wise woman once said "You can always add but you can't take away."  Although this was in reference to an overly liberal use of salt in cooking – the principle applies here.
The idea is also to reduce the amount of product build up in the hair so that the glue in hair extensions (along with your growth hair) won't need to be washed frequently; as washing methods for glue in extensions aren't the same as washing methods for sew-in hair extensions.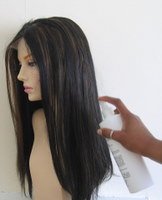 Spray styling products from midpoint downwards
When using a spray moisturizer, lightly mist from the midpoint downwards or spray onto your hands first and then apply to the hair weave and your growth hair if necessary.
A water-based moisturizer is one that lists water as its first ingredient.
If you like your hair moisturizers to contain oils then opt for plant-derived oils or butters, but remember that oils are frequently used to help remove bonding glue (or glue residue) from glue in hair extensions, so limit their use to smoothing frizzy or dry ends.

Combs and Brushes for Glue In Hair Extensions
Use large tooth combs (not the same as wide tooth) on straight and soft wavy weave hair.

Large Tooth Comb
Use wide tooth combs on deep wavy and curly weave hair
Brushes can be used on straight and soft wavy weave hair
Brushes aren't ideal for deep wavy textures or curls as the waves and curls become less defined and the hair will look more voluminous.
Avoid brushes with little balls at the ends of the bristles as the balls can catch on the glued tracks and tug at the hair weave.
That's a gallop through styling tools and products to help you care for your glue in hair extensions, and you can check out the guide to cleaning and condition glue in extensions.

If you want to keep up to date with the next guide about hair weave, hair extensions, wigs and hair pieces then join our blog, or check the Hair Extensions Q&A section.
25/02/16

From Glued Hair Extension Care to Q&A Page

From Glue In Hair Extensions to Home Page


Custom Search