Kinky Curly Clip Hair Extensions
(Aka Loose Afro Curl) Texture Guide
Kinky curly clip on hair extensions are popular; the texture may be known by a few names, but it's loved my many.
The loose Afro curl (kinky curl) texture is really popular as it has all the appeal of small curls but with the bonus of great movement - if you move, your kinky curls will move too.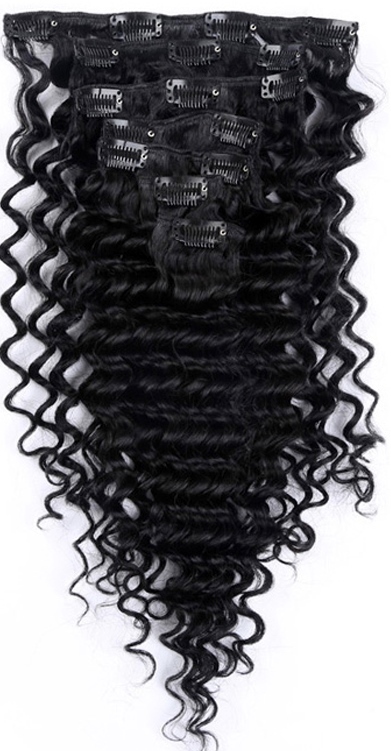 Kinky Curly Clip Hair Extensions
The images on this page show a definite spiral feature of the kinky curly texture and although from a distance, the curl pattern might look like sharp waves, but make no mistake; kinky curls (loose Afro curls) always live up to their name…
There isn't an up-and-down wave in sight!


Kinky Curly Clip Hair Extensions... 
Will They Blend?
If you have small loose curls, you'll blend easy peasy; if your curls are bigger or smaller then you may have to get a bit creative with flexi rods and the like.
If you have straight or wavy hair, you'll have to do quite a bit of work to make your hair blend with kinky curly clip hair extensions.
Remember that not all kinky curls are equal; the size of the curl can vary with different retailers so always check the image and description of the hair extensions before you buy as not all retailers allow hair extensions to be returned.


Kinky Curly Clip Hair Extensions... Single or Multi Clips

Kinky curly clip in hair extensions come as narrow single wefts approximately 1 inch wide that are usually worn at the sides of the head.
They also come as wider single wefts up to 9 inches wide that are usually worn at the back of the head and up towards the crown

Multi sets can have fewer than seven wefts or more than 12, but some of the most common sets have between 7 and 12 wefts (of varying widths) per set.
Single wefts (and multi width sets) also come in different weights (thicknesses).
Larger solo clips are often available in different thicknesses (weights), so instead of buying a single 9" piece that weighs 100g you can buy a 9" piece that weighs about 40g and you can check out images of this here.


Kinky Curly Clip Hair Extensions... Lengths
Long-time clip in hair wearer (or tenderfoots who've read any of our other articles on clip in hair extension textures) will know that the lengths for kinky curl clip hair extensions range from 8 to 28 inches.
Long-time (and fully paid up) members of the Clip In Hair Extension Wearing Community will also know that longer lengths are available but you'll need more than the Pink Panther and Chief Inspector Jacques Clouseau to find them as it will take a degree of searching.


Burgundy (99J) Kinky Curly Clip-on Extensions
Kinky Curly Clip Hair Extensions... Colours
The most prevalent colours are black to medium browns (colour #8) and but there a few other colours out there like burgundy (99J) and strawberry blondes.
The limited colour palette is compensated by the fact that the majority of kinky curly hair extensions can be dyed (although this frequently means lifting the colour first to achieve colours like blondes and coppers).


Caring For Kinky Curly Clip On Hair Extensions... 
Why not peruse Peruke's Caring For Clip In Hair Extensions Guide and cast your eyes over these five top tips to keep your kinky curl clip hair extensions in top notch condition.
1. As the kinky curly texture was achieved through perming the hair, shampoo for chemically treated hair and use a leave-in conditioner or deep condition.
2. Keep the use of heat styling tools to a minimum as frequent use can permanently distort the curl pattern.
3. Moisturise the hair with a water-based moisturizer (without mineral oils) and use hair oils on damp hair.
4. Always detangle hair (from the ends, working upwards) before washing.
5. Use a wide tooth comb and avoid brushing the hair (unless you want undefined curls).
That's the canter through kinky curly clip hair extensions concluded!


If you have a yen for more info, then check the Hair Extensions Q&A section or join our blog.
19/02/16

Jump to Clip On Hair Extension Textures Page

Jump From Kinky Curly Clip Hair Extensions to Home Page



Custom Search