Silky Straight Hair Weave Textures Guide
Silky straight hair weave is the straightest hair texture with a smoothness that creates shine.

Who Can Wear Silky Straight Hair Weave
Silky straight weave hair is a great option for those with naturally straight or wavy hair as the glossy texture is an accurate match.
If you're hair has a curl pattern and you intend to wear a partial weave then you may find this texture to be too glossy to blend with your natural growth hair; in which case something like the relaxed straight textures (Yaki) might be a better blending option.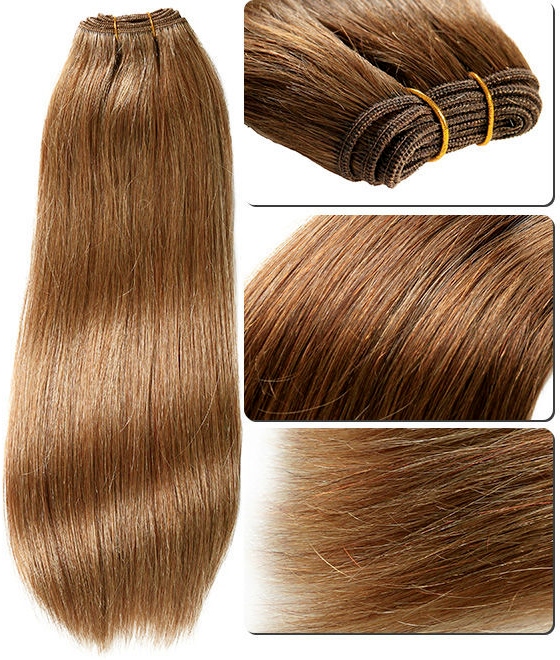 Silky Straight Honey-Brown Weave Hair
If on the other hand you're aiming for a full weave then there's nothing to blend so texture matching won't be an issue.
The silky straight texture reflects the light well so will appear glossy.
This doesn't mean it won't require maintenance, but that it has a tendency to look shinier than curly hair that has been heat or chemically straightened.

Lengths for Silk Straight Hair Weave
Silky straight weave hair tends to start from 8 inches and is usually around 100gm per weft.
Lengths for silky straight weave tend to peak around 28inches but you can find longer lengths....if you look very hard.
If you're a weave hair connoisseur then you'll be aware that you can buy weave hair in remy weave hair and non-remy weave hair as well as no-tangle remy (don't ask, that's a whole other guide for a whole other time).
Our top tip for choosing your length is decide first whether you want it cut into a style after you purchase it.
If you're getting a full weave, measure from the crown and if you're getting a partial weave, measure from the highest point on your head where the weave hair will be attached.

Sets (Bundles) For Silky Straight Hair Weave
Silky straight weave hair can come in sets (bundles) of multiple lengths (you can see the value of multiple length sets in the how to make a wig from weave hair guide).
Bundles are available as sets of two, three or four lengths (like 8inch, 10inch, 12inch & 14inch).

Colours for Silky Straight Hair Weave
Colours for silky straight weave are from jet black to platinum blonde and everything else besides including ombre, dip-dye, T-colours, pastels as well as bright colours.
As with all things manufactured, uncommon colours tend to cost more.

Brown Silky Straight Hair Weave
Caring for Silky Straight Weave Hair
See our in-depth guide for caring for weave hair, and use these top five tips as a starter.
1. Wash your weave hair at least every couple of weeks using a shampoo for dry or damaged or coloured hair (if you're unsure whether your weave hair is coloured in any way then opt for a shampoo for coloured hair)
2.  Use a leave-in conditioner or deep condition your weave hair (human hair) every two weeks to repair and strengthen the hair.

3.  Keep weave hair (and your growth hair) moisturized, using a light moisturizer that's free from mineral oils.
4. If the weave hair becomes frizzy, or seems dry at the ends then apply hair oils to smooth and nourish the weave hair this works best when the hair is slightly damp.
5. If you have glue-in weave hair then it's best to use a dry shampoo and avoid getting any hair extension products anywhere near the glued tracks as it can cause the glue to disintegrate and matting of your growth hair.
Silky straight hair weave sorted!

If you want to keep up to date with the next guide about hair weave, hair extensions, wigs and hairpieces then join our blog, or check the Hair Extensions Q&A section.


 Jump to Hair Weave Textures Page

Jump From Silky Straight Hair Weaves to Home Page