Oil Resistant White Glue Lace Wig Adhesive

As a lace wig adhesive, Oil Resistant White Glue (ORWG) is a great choice not just because it's super easy to use, but also because a little goes a very, very long way - yay!
The wig adhesive is a water based adhesive and has been specifically formulated for oily scalps and heavy perspiration - with those claims, Oil Resistant White Glue certainly has to be one of the best wig adhesives on the market and if you're researching wig adhesives, our guide has plenty of options.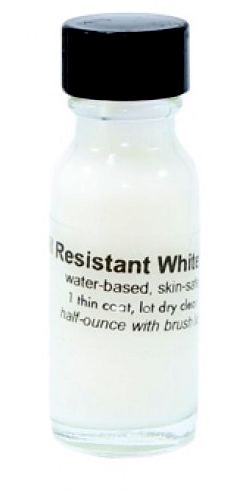 Lace Wig Liquid Adhesive - Oil Resistant White Glue
Type of Adhesive: Water based (skin friendly with no harsh ingredients)

Type of Bond: Soft

Type of Hold: 1-4 weeks depending on body chemistry

Waterproof: yes

Oil-proof: yes

This means that if you have a tendency to perspire, or have oily skin (over active sebaceous glands) then Oil Resistant White Glue may well be the best lace wig liquid adhesive for you.


Oil Resistant White Glue Benefits

Dries clear without shine


Long hold time dependent on body chemistry


Applies easily with one single coat


Designed for oily skin


Designed to withstand perspiration


No strong chemical smell


Easily released with lace release


Can be used with lace wigs and toupees
How to Use Oil Resistant White Glue Wig Adhesive
A patch test required before full application.
For best results, use oil resistant white glue sparingly and allow it to dry until it feels tacky to the touch.
Apply the adhesive to scalp only.
Do not apply adhesive directly to the lace.
Do not use Scalp Protector or other skin protectants (as this is designed to work with solvent based glue and oil resistant white glue is not a solvent based lace wig adhesive).


Cleanse your application area with 99% alcohol


Apply a thin layer (using the brush, your finger or cotton bud)


Let this layer dry for approximately five to ten minutes until it is clear (at this point the adhesive should feel tacky when touch)


Optional: repeat the three steps above


Attach your unit


Size Available
You can buy this in a 0.5oz bottle with brush

Ingredients
acrylic polymer and water - no solvents or toxic ingredients


There you have it: if you're looking for a lace wig liquid adhesive that works whether you perspire or have oily skin, this may just be the liquid wig adhesive you've been looking for.


If you'd like to keep up to date with the next guide about hair weave, hair extensions, wigs and hairpieces then join our blog – no personal info required.

From ORWG Lace Wig Adhesive to Main Wig Adhesive Page
 Jump From ORWG Wig Adhesive to Home Page
Custom Search