Kinky Straight Lace Wigs
(Afro Straight) Texture Guide
Kinky straight lace  wigs are a staple texture on the lace wigs scene. Those with Afro textured hair who want a blow dried hair look will adore this texture on their wig.
It may be that you want to give your hair a break from relaxers, it may be that you're trying to establish length with your growth hair, or perhaps you've experienced hair loss and want something that is in keeping with your own style; then choose this texture for an undetectable and natural blow dried Afro textured hair look. Our Store has plenty of options for you.

Who Can Wear Kinky Straight Lace Wigs?
As the Kinky straight texture mimics Afro hair that has been blow dried straight it's naturally most suited to those with Afro hair textures so again, another favourite!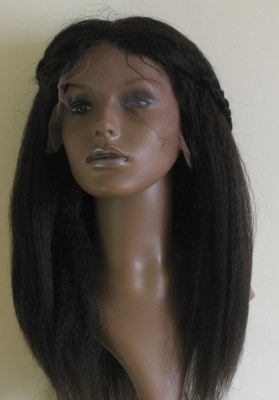 Afro Kinky Straight Lace Wig
Have a look at the pictures on page to note the look of typical Afro kinky full lace wigs.
This Afro kinky straight lace wigs are available in 100% Remy hair, both Indian and Chinese … and increasingly Brazilian and Malaysian Remy hair. The hair has slight kinks in it that don't form curls but prevent the hair from being as smooth as relaxed straight textured hair.

Afro Kinky Straight Lace Wigs... Lengths
Much like the information for Yaki straight lace front wigs, you can find a variety of lengths for Afro kinky straight textured hair.
Your kinky straight Remy lace front wigs will cost you considerably more in lengths beyond 18 inches due to the limited supply of donors that have hair of that length.
Lengths for Afro kinky straight full lace wigs are typically 10 – 24 inches but you will find places that offer 8 – 36 inches such as… oh, well, us – Hooray!
Remember if you're looking for a human hair lace wig to decide whether you only want 100% Remy hair for your wigs for human hair wigs or whether non-remy lace wigs are also an option. When choosing your length, think about whether you intend to have your wig styled and cut in a way that involves taking length off the bottom. If so, then it's worth considering a slightly longer length when you choose your full lace wig.

Colours for Kinky Straight Lace Wigs
Indian, Brazilian, Malaysian and Chinese Remy hair comes naturally in black to dark brown with the other colours occurring due to the hair being dyed.
You'll be able to choose colours in every shade up to blonde with Afro kinky straight lace front wigs and if you're darker in complexion you may want to look at our hair colour guide for those with darker skin tones by clicking here or check out the guide for all skin tones and hair colours.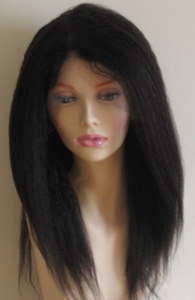 Afro Kinky Straight Full Lace Wig
Caring For Kinky Straight Lace Wigs
If you haven't perused the Peruke's Caring For Wigs Guide then you can use these five top tips to get you started.
1. If possible wash your Afro Kinky straight full lace wig on a mannequin head (a polystyrene/Styrofoam head is fine). This gives you full control over the process, so you can see what you are doing.
2. Use a shampoo for dry/damaged hair (make sure it's also suitable for coloured hair if your wig coloured in any way) I like to use one that's for coloured hair as it's less harsh.
3. Don't blow dry your wig with a hair dryer or hooded dryer! This damages the hair and shrinks the lace of the wig – in case you're wondering you can't wear a wig that's too small! Also you don't need to use straighteners as it's pretty straight already, but if you want to know how to straighten kinky straight hair wigs, do so infrequently and on a low setting.
4. Don't use any products with mineral oils as this ruins the hair. You really don't need to use lots of moisturising products for Afro Kinky straight hair. 
5. Paddle brushes are great for Afro Kinky straight full lace wigs but wide tooth combs are best. The hair can be combed whether wet or dry but don't over comb the hair and don't comb it too much when wet as it can contribute to shedding of your clever, Kinky straight full lace wig!
There's your ace in the hole! The Afro Kinky Straight Lace wigs guide, delivered to your door.

If you'd like to be first to read new guides and articles, why not join our blog - it's super easy to do and doesn't require any personal info!


Jump to Lace Wig Textures Page

Jump From Kinky Straight Lace Front Wigs to Home Page



Custom Search