Hair Weave
Nettting Technique
Hair Weave Netting Technique
This hair weave application is very similar to the tracking technique with a few exceptions.

You will need:
Weaving thread

Breathable weave net or netting cap

A curved needle (like the kind used for upholstery)

Hair clips to hold hair back as you braid

Scissors

Hair wefts!




You can either leave the edges (perimeter) of your hairline free or not, the choice is yours.
Once you've decided on the area to cornrow, do so then cover this area with the breathable hair weaving net by sewing it to the outer perimeter of the cornrows.

The net acts as a flat surface onto which the hair wefts are sewn.
This method is preferable as it means the hair can be tied up in a ponytail and nobody is any the wiser as to the fact your wearing hair weave!
You simply sew the wefts in the direction that you'd like; some tend to go from left to right starting at the back of the head. 
The image below shows the net sewn onto canerows (cornrows) - image source: http://community.blackhairinformation.com/hairstyle-gallery/weaves-extensions/this-kstyles/ - click to enlarge.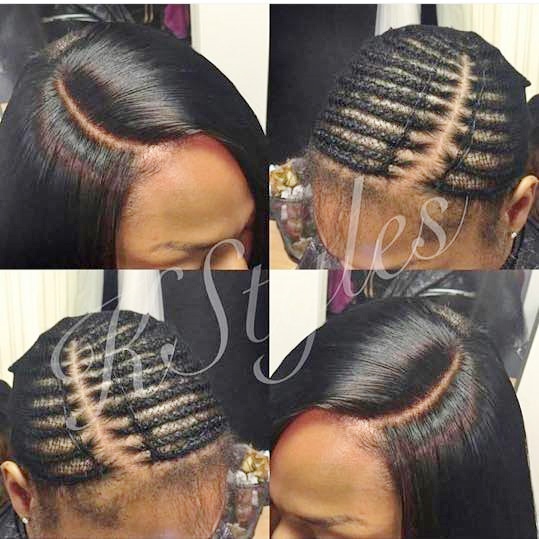 Net Weaving Technique
Note: The image above contains a lace closure piece for the parting, which was sewn onto the cornrows.
If you don't have a lace closure piece then simply leave some hair free on each side of the parting (in the same way that the front edges of the hair are free in the image).
The other bonus of net weaving (as well as the regular tracking method) is that it allows you to wash your natural hair keeping it clean and your scalp itch free!
Once it's a attached you can style it, so why not check out the guide to daily styling weave hair products, as well as the guides for washing sew-in weave hair,  how and what to use as a hair oil for weaves and conditioning weave hair extensions.
How long will it last?

Weave hair extensions can last for more than three months.
It's more about what you're comfortable with as well as how well you care for the weave hair extensions and your own growth hair (and how fast your hair grows).
Some folks have their hair in weave nets for a couple of months, but if you prefer shorter periods, it's not a problem - just make sure that when you remove the weave hair that you don't cut your own hair - slow and steady is the best way.
Speaking of removal....

The great thing about net weaving is that it's so easy to take out – you just follow the thread that's attached to the net (you can always ask someone to help if you're unsure).

So go on, net weave away!
There are more answers to more questions in the Hair Weave Q&A section as well as the navigation menu or if you'd like to keep up with new info, then why not join our blog - it's easy to do and doesn't require any personal info - hurrah!
09/03/16

Jump From Net Weaving Technique to Weave Main Page

Jump From Hair Weave Netting Info to Home Page



Custom Search