Davlyn Waterproof Adhesive

If you're looking for a soft bond lace wig adhesive then Davlyn Waterproof adhesive is a great option.
It's designed for extended wear (one to three weeks) so not ideal for daily removal (as in removing your hairpiece on a daily basis); if daily removal is important, our guide has plenty of alternative options.
As a waterproof wig adhesive you can shower with easy and you don't have to worry about being caught in the rain, going for swim, playing squash or any other activities.
The delightful Davlyn waterproof adhesive is an all-round wig adhesive that is safe on skin and easy to use – what more could a person want from a wig adhesive?
Its small half ounce size bottle means you can carry it around with you in your jacket pocket or in your handbag– so always to hand should you need it for touch-ups.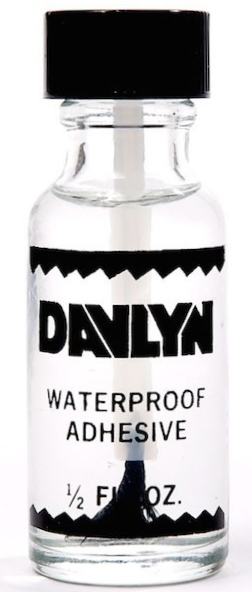 Davlyn Waterproof Adhesive
It's great for securing lace wigs, toupees, lace frontals polyurethane wigs and other types of wig caps.
Davlyn Waterproof adhesive is safe to use on skin however always perform a patch test to determine any sensitivity to its ingredients.
If you're a fan of Davlyn then there are other items to complete the package like
Davlyn Skin Protector Dab-on 1.4 oz.
Davlyn Lace Remover Spray 4 oz.


Type of Adhesive: solvent based (skin friendly)
Type of Bond: Soft
Type of Hold: 1-3 weeks depending on body chemistry
Waterproof: yes
Oil-proof: N/A
The wig adhesive is waterproof which increases its hold time.
Davlyn Waterproof Adhesive Benefits

Dries clear


Long hold time dependent on body chemistry


Applies easily with brush


Designed to withstand perspiration


Waterproof


Can be used with lace wigs, PU wigs, lace frontals and toupees


Small enough to carry in your jacket pocket or handbag


Size Available
You can buy this in a 0.5oz (15ml) bottle with brush

Ingredients
Contains Ethyl Acetate


How to Use Davlyn Waterproof Adhesive
A patch test required before full application.

Wash skin with soap and water, dry completely


Cleanse your application area with 99% alcohol


Use Scalp Protector or another skin protector (as this is designed to work with solvent based glue and Davlyn waterproof adhesive is a solvent based wig adhesive)


Apply one thin layer of adhesive to skin


Allow to dry for approximately three minutes


Place the hairpiece against the skin firmly


Allow a further ten minutes for adhesive to dry, when this glue has dried it's waterproof
Remove with adhesive remover like Lace Release and clean adhesive residues with either acetone or alcohol.
Warning: Combustible contains ethyl acetate. Keep away from heat, sparks and flames.


So, there you have it: if you're looking for a lace wig liquid adhesive that's easy to use and even works in the shower then Davlyn waterproof adhesive might just be just be the wig adhesive you've been looking for.


If you'd like to keep up to date with the next guide about hair weave, hair extensions, wigs and hairpieces then join our blog – it's super easy to join no personal info required.


From Davlyn Waterproof Lace Wig Adhesive to Main Wig Adhesive Page
 Jump From Davlyn Waterproof Wig Adhesive to Home Page
Custom Search