Synthetic Lace Wigs …
The Kelly Look
Synthetic Lace Front Wig Out of Stock

The Kelly look for synthetic lace wigs is great for those looking for a light Yaki straight synthtetic lace wig that can be curlied with curling irons up to 400F (180 degrees Celcius)...
So if you're into curls but mainly like straight hair then this wig is a great option.
Its 18 inch length means it's a must have for those who are looking for length in their hair.
Being the light Yaki texture the hair is incredibly fluid and moves easily.


Quick Stats
Length: 18 inches
Size: Medium (fits most heads with adjustable strap)
Cap: Swiss or French lace at front (for a natural hairline), wefts at the back
Heat Resistant: Yes to 180 degrees
Wigs By Face Shapes...
With the length of this wig, you'd be forgiven for thinking it would be a heavy wig, but in fact the synthetic heat resistant hair is light and extremely easy to maintain.
This is an easy to wear tangle free wig!
It's suitable for a range of face types... starting with the easily pleased oval face shape.
For those of with round/heart shaped faces, this wig will help balance the width of the face.
You can use off centre partings (which can be achieved due to the freestyle parting) and add waves or curls to faces that are rectangular/square as this will soften angles and round out the face.


Cap Construction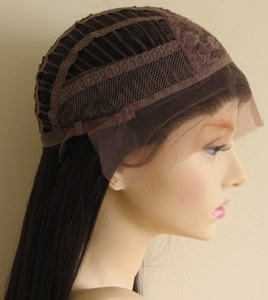 Light yaki open weft cap
The front is made from quality Swiss/French lace with machine made wefts in the back - can be worn in a low ponytail.
The lace is transparent, light brown, medium brown and dark brown - the model shown is medium brown.
Free style partings mean that you can part it wherever you like.
Length & Density
18 inches in length with a medium density for a full but natural look.


Sizes Available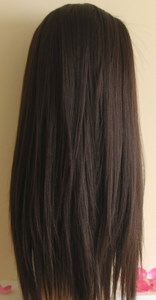 The great thing about these synthetic lace wigs is that they have stretch lace and an adjustable belt, so will fit most heads, but for those of you who like to crunch numbers here are the quick stats:

Circumference: 22.5"

Front to Nape: 15"

Ear to ear forehead: 13.5"

Ear to ear over top head: 13"

Temple to temple: 15.5"

Nape: 5"

Curling/Flat Iron Safe?
Yes. You can use your tongs and curling irons on this hair as it's heat resistant to 180 degrees Celsius.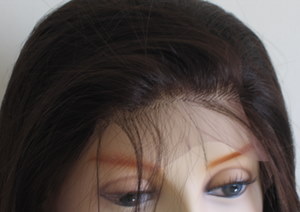 Light yaki synthetic lace front wig hairline
Who Can Wear?
This wig is light Yaki straight which resembles relaxed afro/extremly curly hair and the colour of this wig means it's great for all skin ones.
The cap construction of these synthetic lace wigs mean they're great for those who have growth hair as well as those who have lost all or some of their hair.
Colours Available
The colour shown is 4 which is a dark brown colour and if you'd like it in any other colour including reds and blondes, contact us and we'll arrange it for you.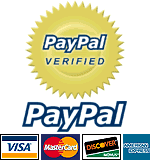 Jump from Kelly Synthetic Lace Wigs to Home Page