Full Lace Wigs …
The Helena-Light 14" Brown Look
Please note that the shop is currently under reconstruction.
Remy Full Lace Wig £135 Out of Stock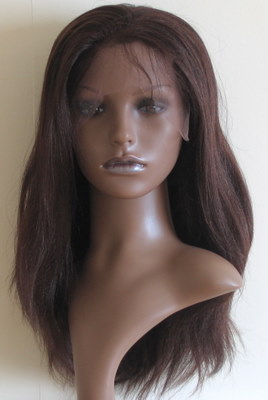 14"Light Yaki Straight Full Lace Wig
The Helena Light Yaki Straight look for full lace wigs is a soft straight Peruke.

Ideal for those with extremely curly textures or afro growth hair who want hair that looks like it's been relaxed (straight perm).

It's a straight texture with great fluidity and ideal as a wig.

It has an undetectable hairline that's so authentic it will pass for your own hair.

Those with types of 4a and 4b often wear Yaki straight.

But if you'd like something with a bit more movement and a silkier feel, or if your hair type is mainly corkscrew curls either large or very tight, but not quite Afro (also known as 3b type hair) then the light Yaki texture is a great choice.

---
14"Light Yaki Straight Full Lace Wig
As it's a human hair Peruke, you can get your curling iron out and make it a curly lace wig whenever you fancy or go one better and wet set the hair after washing.

Quick Tip - We always recommend wet setting the hair to preserve the life of the Peruke.

Quick Stats
Length: 14 inches
Size: Medium (22"- 23")
Cap: Swiss or French with ear to ear stretch
Hair Type 100% Indian Remy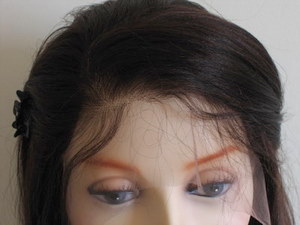 14"Light Yaki Straight Full Lace Wig
Wigs By Face Shapes...
The length of this wig makes it versatile. Falling below the chin it adds length to round and heart shape faces.
The length will also soften the jaw line for square shape faces. As it falls just below the shoulders it suits oblong/rectangular faces.
This is a medium to long wig so an easy option for oval face shapes – why not see our wigs by face shape guide for more information.
---
14"Light Yaki Straight Full Lace Wig
Cap Construction
The model shown on this page is wearing a standard Swiss lace cap with ear to ear stretch.
Full lace – can be worn in high ponytail

Choose from Swiss (ultra thin, more delicate than French) or French Lace (light or medium brown), with ear to ear stretch

Fine hairs at perimeter (baby hairs)

Freestyle parting

Single bleached knots at front – double through out for French lace caps

Single knots at front and double knots throughout (all unbleached) for Swiss lace caps

---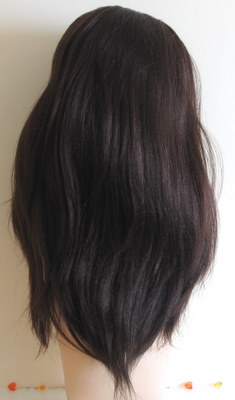 14"Light Yaki Straight Full Lace Wig
Length & Density
14 inches medium density (110-120%) for an easy to wear natural look.

A quick word about densities - When you're looking at magazines and see "big hair" it's important to remember that the look isn't real.
The look is often created by bumpits, additinoal hair extensions or volumising techniques - what you see here is exactly what your Peruke arrives at your front door.

Sizes Available
This is a medium sized full lace wig and here are the stats:
Circumference: 22.5"
Front to Nape: 15.3"
Ear to ear forehead: 11.5"
Ear to ear over top head: 13.5"
Temple to temple: 14.5"
Nape 5"

---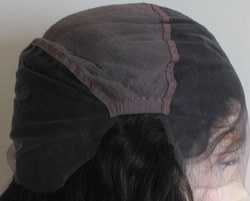 14"Light Yaki Straight Full Lace Wig
The most important measurement for wig wearers is the circumference. If a full lace wig will not fit around your head then the other measurements won't matter as the wig won't fit.

The 22.5" circumference measurement for full lace wigs is known as the medium size and will fit most people. The Swiss lace cap design allows an extra half inch each way due to the ear to ear stretch.

If you're not sure how to take your own measurements you can check out our measuring guide for more details.

Who Can Wear?
The cap construction of these full lace wigs means they're adaptable.
The ear to ear stretch makes it a great cap whether you have growth hair or not.
You can see from the images that the light brown Swiss lace is suitable for all skin tones.

Colours Available
The colour shown is 4 which is lighter than the deep brown of colour 2.
If you'd prefer it in another colour, contact us and we'll arrange it for you.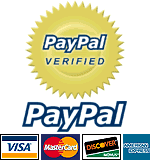 From Helena-Brown Light 14" Full Lace Wig Store

Jump from Helena-Brown Light 14" Full Lace Wigs to Home Page