Full Lace Wigs …
The Ella 16" Look
Kinky Straight Full Lace Wig £149 
Out of Stock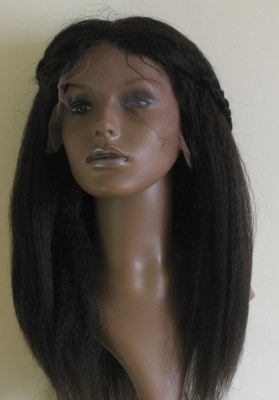 16" Blow Dried Afro Straight (Kinky Straight) Full Lace Wig

The 16" Ella Kinky Straight look for full lace wigs is a really wearable wig.
16 inches of lovely, kinky straight hair, light coloured Swiss lace that suits all skin tones.
This wig sits somewhere between afro hair that's been blow dried and light Yaki hair that hasn't.
If you're after a full undetectable look, then the Ella range of kinky straight wigs is for you.
From our African American section hairpiece or the wigs for black women section, you'll have learned that for an undetectable look that is so authentic it will pass for your own hair, Kinky Straight is a great option.
As it's a human hair wig, you can get your curling iron out and add curls whenever you like.

---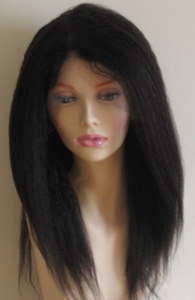 16" Blow Dried Afro Straight (Kinky Straight) Full Lace Wig
Quick Stats
Length: 16 inches
Size: Medium (22"- 23")
Cap: Swiss or French with ear to ear stretch
Hair Type 100% Indian Remy
Wigs By Face Shapes...
Oblong/rectangular type faces can use off centre partings (which can be achieved due to the freestyle parting).
Wet setting curls and waves will add width to and soften the angles of the face.
This length is great for those with round or heart shaped faces as it will help balance the width of the face.
This is a long wig but not heavy to wear. Oval faces fit this wig with ease.
16" Blow Dried Afro Straight (Kinky Straight) Full Lace Wig
Cap Construction
The model shown on this page is wearing a standard Swiss lace cap with ear to ear stretch.
Full lace – can be worn in high ponytail

Choose from Swiss (ultra thin, more delicate than French) or French Lace (light or medium brown), with ear to ear stretch

Fine hairs at perimeter (baby hairs)

Freestyle parting

Single bleached knots at front – double through out for French lace caps

Single knots at front and double knots throughout (all unbleached) for Swiss lace caps

Length & Density
16 inches, a medium density (110-120%) for a healthy natural look.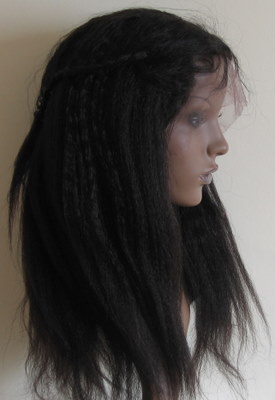 16" Blow Dried Afro Straight (Kinky Straight) Full Lace Wig



Sizes Available
This is a medium sized full lace wig and here are the stats:
Circumference: 22.5"
Front to Nape: 15.3"
Ear to ear forehead: 11.5"
Ear to ear over top head: 13.5"
Temple to temple: 14.5"
Nape 5"
The Swiss Cap comes with ear to ear stretch meaning that it will fit half an inch either way (so 22 - 23 inches)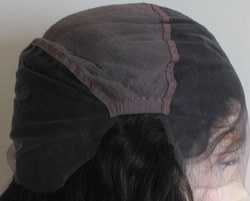 16" Blow Dried Afro Straight (Kinky Straight) Full Lace Wig
The most important measurement for wig wearers is the circumference which is why you'll find that some sites focus on this the most - check out our measuring guide for more details.


Who Can Wear?
The colour of this wig means it suits all skin tones. The cap construction of these full lace wigs means they're versatile.
The ear to ear stretch makes it a great cap for those who have growth hair as well as those who have lost all or some of their hair.
You can see from the images that the light coloured Swiss lace is suitable for all skin tones.
Colours Available
The colour shown is 2 which is a very dark brown and, if you'd prefer it in another colour, contact us and we'll arrange it for you.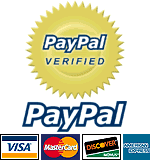 Jump From Ella 16" Kinky Straight Lace Full Lace Wigs to Full Lace Wig Store Section

Jump From Ella 16" Kinky Straight Lace Full Lace Wigs to Home Page