Endura-Bond Wig Adhesive

Enduring Endura-Bond...
A Hard Bond Lace Wig Adhesive
If you're looking for a hard bond lace wig adhesive then Endura-Bond wig adhesive is a great option.
Its hard bond nature means it provides extended hold, and has been formulated to be safe on skin. Never-the-less, it's important to highlight that one of the ingredients in Endura-Bond is the same ingredient used in super glue… yes, that's right super glue.
So with this in mind, it's important to note that it dries quickly and dries hard. It's because of this quick and hard drying quality that the adhesive provides extended hold.
If this isn't for you, then our guide has plenty of alternative options.
The general consensus is that Endura-Bond is not ideal for beginners, as it's a very strong bond and dries so quickly that there's little time to make adjustments after application.
The unique formulation means that unlike adhesives which can break down when exposed to moisture, Endure Bond cures when exposed to moisture such as humidity, perspiration and water.
Endura-Bond wig adhesive should be used sparingly and can sometimes mean that the nozzle dispenser allows too much adhesive to flow.
As a hard bond wig adhesive, Endura-Bond should not be used directly on lace as the clean-up can be difficult to remove from the lace.
It's great for securing lace wigs, toupees, lace frontals polyurethane wigs and other types of wig caps.
Endura-Bond adhesive is safe to use on skin however always perform a patch test to determine any sensitivity to its ingredients.
Type of Adhesive: Solvent based
Type of Bond: hard
Type of Hold: 1-5 weeks depending on body chemistry
Waterproof: yes

Endura-Bond lace front wig adhesive is a hard bond adhesive which increases its hold time.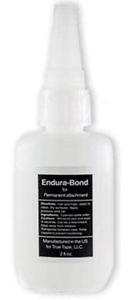 Endura-Bond Waterproof Wig Adhesive
Endura-Bond Wig Adhesive Benefits

Dries quickly


Long hold time dependent on body chemistry


Applies easily with nozzle cap


Designed to withstand perspiration


Waterproof


Can be used with lace wigs, PU wigs, lace frontals and toupees


Size Available
You can buy this in a 1oz or 2oz squeeze bottle

Ingredients
Cyanoacrylate Ester
Endura-Bond does not contain lead
Endura-Bond does not contain mercury
Endura-Bond does not contain formaldehyde


How to Use Endura-Bond Wig Adhesive
A patch test required before full application.

Do not apply directly to lace cap wigs

Only apply to tape or thin skin (PU) band on hair replacement systems.

Wash skin with soap and water, dry completely


Cleanse your application area with 99% alcohol


Use Scalp Protector


Apply one thin layer of adhesive to skin or PU cap (but not lace)


Place the hairpiece against the skin firmly


Remove with hard bond remover such as acetone or Endura-Bond Remover


That's the low down on Endura-Bond; a hard bond wig adhesive that dries super fast and provides a long hold time for extended wear of your hair replacement system.


If you'd like to keep up to date with the next guide about hair weave, hair extensions, wigs and hairpieces then join our blog – it's super easy to join no personal info required.


From Endura-Bond Lace Wig Adhesive to Main Wig Adhesive Page
 Jump From Endura-Bond Wig Adhesive to Home Page
Custom Search