Care For Your Dreadlock Hair Extensions
Dreadlock Hair Extension Care
So you've bought your dreadlock hair extensions, put them in and a week later your head is a bit itchy. What do you do? Well you've come to the right place to learn about looking after your dreadlock extensions, read on and enjoy your dreads.

Can They Be Washed?
With the wool dreadlock extensions you have to be careful and try to keep cleansing to the roots of your growth hair not the whole air extension to avoid frizz.
If you keep the roots clean by running a solution of shampoo and water through the roots of your hair and only massaging gently you should be fine.
Always rinse thoroughly.
Our top tip for washin wool dreadlock extensions is to try not to get the rest of the dreadlock extensions wet!

If you've ever worn synthetic dreadlock hair extensions then  you'll know that you can wash your hair in the normal way – your whole head can be wet, but avoid rubbing the dreads together.
Would you like a bit more detail on washing synthetic dreadlock extensions? We thought you might, so check out the braid extension washing guide to find out the steps involved to washing your synthetic dreadlock extensions.
By washing at least once per week, you keep your hair relatively clean which means that you don't need a vigorous cleaning method.
It's important to use a shampoo for dry damaged hair for the right PH balance (using your supermarket's own brand as shampoo is for cleaning hair not hydrating or moisturising) and either blow dry on a cool setting or pat dry with a towel.
... And in case you didn't already know...Using a hot hair dryer will damage the hair!


How Do You Look After Dreadlock Hair Extensions?
The key is to look after your own hair as well as your dreads.
It's always wise to use a water based moisturiser with something like coconut or olive oil and stay far, far away from anything that contains mineral oils as these aren't absorbedby the hair and just trap dirt, dust and odours....boo!
Why is a water based moisturizer important?
A water based moisturizer will ensure that the hair receives the moisture (water ) it needs; oils can be added at any time but oils don't provide moisture, they provide proteins or lubrication or both (if you choose the right oil).
Moisturizers for hair are best if they:
are water based (water is the first ingredient)

contain plant-derived oils or butters
do not contain mineral oil
If your moisturizer is in the form of a spray, then lightly mist each day.
If it's a crème then do so each day to make sure your own hair doesn't dry out.
Unless your scalp is generally dry then don't put the moisturiser there, your head produces its own natural oils to lubricate.
The aim here is to make sure all your growth hair is moisturised to avoid brittle breaking hair.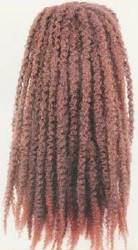 At night, simply tie your dreadlock hair extensions back or wear a cotton or silk scarf over your head just to avoid friction with the pillows and to preserve the look of your dreadlock hair extensions.


How Long Can You Leave Dreadlock Extension Hair In?
The advice for dreadlock extensions is the two month mark to avoid matting of your own hair.
In fact we'd go so far as to say the two month mark is the optium for all extensions simply because they pull on your own hair.
It's also because if you keep the idea of two months in mind, should it slip to three your still in safe limits. But if you think of three months and slip to four, you could end up with excessive damage to your hair and scalp.
You'll find many sites that say you can keep them for three months and in theory this is fine, but in reality your hair can begin to look worn by then and you do risk matting of your growth hair.
Since dreadlock hair extensions only take a few hours to apply it makes sense to remove them every couple of months.


There's more information in the Hair Extensions Q&A section or if you'd like to keep up to date with the next guide about hair weave, hair extensions, wigs and hairpieces then join our blog – no personal info required.
Jump From Dreads Care to Main Dreads Page

Jump From Dreadlock Hair Extensions Care to Home Page


Custom Search