Maintenance For
Micro Ring
Hair Extensions!
How Long do Micro Ring Hair Extensions Last?
If you're using human hair extensions then
they can last anything up to 14 weeks.
As hair grows about a centimetre a month hair can look quite clumpy by that time so you may want to remove them sooner rather than later – 8 – 10 weeks is optimum.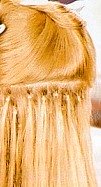 Who Can Wear Them?
Due to how micro ring extensions work they are typically
only suited to straight or wavy hair.
So if you have unprocessed afro hair this type of hair extension is definitely not for you. But if you're afro hair has been straight permed or relaxed then they are fine.
Can Micro Rings Be Seen?
The micro ring extensions are applied very close to the scalp so providing you have enough growth hair surround the area,
they will not be visible
to someone standing next to you. As well as this, the
rings come in all colours
so using the ring colour closes to your hair colour will further help conceal them… Nifty!
Can You Go Swimming With Micro Ring Hair Extensions?
Yes you can.
In fact you can participate in any kind of sport with micro ring extensions as the clamped ring holds has a firm hold on the growth hair so aren't prone to slipping out.
Can You Wash Your Hair With Micro Rings Hair Extensions?
You certainly can! You can wash your hair in the way you would normally, although
more than twice a week is not recommended
and be sure to rinse out all the shampoo and conditioner you use.
Human Hair or Synthetic Hair?
Well you can check out our Human Hair vs. Synthetic Hair pages for the pros and cons of each but the sure winner with micro rings has to be human hair just for the ability to straighten or curl it using heat.
The choice of course is up to you!
Custom Search
Jump From Micro Ring CareTo Main Micro Ring Page

Jump From Micro Ring Hair Extensions to Home Page