How To Glue In




Hair Extensions



It's a simple process to glue in hair extensions and if you want further information have a look at our bonding page as the process is almost identical.
We should stress that this is about gluing in wefts without heat so there's no mention of glue guns or heating tools here.
It's important to emphasise this method of glued in extensions works best on straight to wavy hair or very, very loose curls.
It's not suited to afro hair but if your afro hair has been permed or relaxed this method can be used.
You can use any kind of weft for glue in extensions, not just skin wefts… so for you sticklers who wanted a step by step guide here goes…



You will need
Bonding Glue like Liquid Gold or Salon Pro
Hair clips to hold hair back as you bond
Scissors
Hair Wefts (known as skin or weaving wefts!)
Bond Remover like Liquid Gold or another that dissolves bonds for when you take out the weave.
Always start from the bottom up – so if you're after a full head of weave, then start an inch from the nape of your neck.
In fact it's a good idea to leave an inch thick perimeter around the circumference of your head.


Parting The Hair
1. Make a horizontal parting near the nape of your neck and clip or tie the rest of your hair away allowing the rest of your growth hair to fall against your neck.
2. Measure the width of the weft you want to wear and cut one or two pieces of the hair extensions to that length.
Thicker Hair?
3. (This step is optional but gives you a thicker look if that's what you are after, however beware of too much bulk near your scalp – you don't want the glued in hair extensions pulling at your own hair.) Sew the two wefts together. This will give you one weft but it will be twice as thick.
Alternatively just use one weft, I generally only use one but if you're covering an area of hair loss then two will do the job.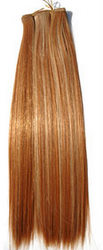 Gluing The Weft
4. Apply the glue all along the top of the weft – where the stitching is. Follow the directions for the brand of glue you are using.
Attaching The Weft
5. Place the weft against the sectioned hair and press firmly. You can use a cool setting from a hair dryer to make the glue dry more quickly.
Repeat
6. Repeat steps 1 to 5 to attach your glue in hair extensions.

This method of attaching glue in hair extensions mainly allows you to wear your hair down and back in a pony tail.
Partings
If you'd like to have a parting in the middle of your head or off centre then attach your wefts in a U shape so they go from one ear around the back of your head to the other ear.
By doing this you will be able to part the hair on the crown of your head without your glue in hair extensions showing!
To learn about caring for glued in hair extensions, click here.


Jump From Glue In Hair Extensions to Home Page


Custom Search