Textures for Skin Weft Hair Extensions... Water Wave

Water wave skin weft hair extensions (aka tape in hair extensions) are not in plentiful supply but they are available and deserve a guide dedicated to all their water wavery goodness.
The texture is as it says a wave pattern which is more pronounced that body wave texture due to the waves being smaller and closer together.
Water Wave Skin Weft Hair Extensions... Will They Blend?
As there are so many variations of wave patterns in the hair extensions world, it's hard to say which natural hair texture type will blend seamlessly with water wave wefts.
The wave patterns in hair extensions are created with the use of rods and as different manufacturers use different sized rods, it means that there are different sized water wave skin weft extensions on the market.
This means that you (the devoted wearer) have to choose whether you think you can make your natural growth hair blend with the water wave tape in hair... by curling, plaiting (braiding) or any other means.
All of this goes to say that when buying skin weft extensions online check the listing description and images as not all retailers allow hair extensions to be returned.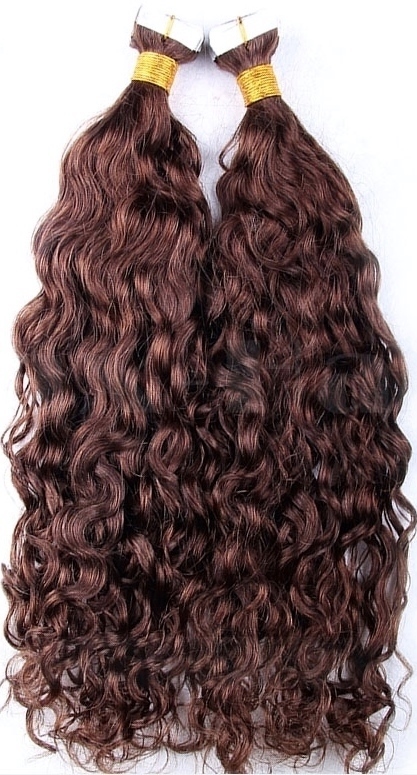 Water wave Tape in Hair Extensions
Lengths for Water Wave
Skin Weft Hair Extensions
You can find a variety of lengths for water wave tape in hair from 8-26 inches and although there are slightly longer lengths available, you'll have to treat finding them like a game of Where's Wally? Or perhaps that should be; where's water wave? If you look... look... look a bit more... keep looking and don't stop until you find them.... and they water wave skin weft extensions can be found (much like Wally).  
It's always easier to choose the length according to the final cut and style of your new tresses and if you're unsure about which hair lengths complement which face shapes, then check out our wigs by face shape guide - yes it says wigs but it's more about hair lengths and face shapes.

Hair extension aficionados know that tape in weft hair is available as remy hair and non-remy hair and now... drum roll...  guaranteed, certified (although not by us as it's not our product) "no-tangle non-remy" (that's what the manufactures call it... we saw the ads).

Sets For Water Wave
Skin Weft Hair Extensions
Water wave skin weft extensions come in sets of 20 or 40 pieces. There are a few retailers offering sets with different numbers, but not so many we could write about it.
Each set is a single length - no multi-length sets available at present, but that could change... any day.
Colours for Water Wave
Skin Weft Hair Extensions
The most prevalent colours are black to medium browns. The limited colour palette is compensated by the fact that the majority of hair extensions can be dyed (although this frequently means lifting the colour first to ultimately achieve colours like blondes and coppers).
Tips about which colours complement different skin tones can be found in our guide to hair extension colours and skin tones.
Caring for Water Wave
Skin Weft Hair Extensions
For an overview of daily styling, combs and brushes for skin weft hair, peruse Peruke's guide to Caring for Tape in Hair and use the following five top tips to get started.
1. As the tape in hair has been chemically treated to achieve its texture, it's better to use a shampoo for chemically treated hair when you wash your tape in hair extensions and either use a leave-in conditioner or deep condition to repair and strengthen the hair.
2.  As the hair has been chemically treated to achieve texture, it's better limit the use of heat straighteners as frequent use can sometimes distort the overall wave pattern.

3.  The hair should be moisturized regularly with a light moisturizer that's free from mineral oils.
4. If the ends become dry then using hair oil that nourishes the tape in hair on damp hair should smooth and hydrate the hair.
5. Hair extension products shouldn't be used anywhere near the adhesive tape section of the tape in hair as they can cause the adhesive to become sticky which could mean the matting of your growth hair.
Okeydokey, that's a wrap on water wave skin weft hair extensions!
There are more answers to questions about hair extensions of all kinds at our Hair Extension Q&A section and you can join our blog to keep up to date with the next guide about wigs, hair extensions (including weave hair) and hairpieces.
01/04/16

 Jump to Skin Weft Hair Extensions Texture Page

Jump From Water Wave Tape In Hair Extensions to Home Page
Custom Search