Classy, Curly Lace Front Wigs
& Full Lace Wigs
Ok, so you've read all our articles on lace front wigs, you know about the straight, the wavy and the kinky, but you're not quite sure about how you'd look after your curly lace wig, or what to expect when yours comes through the door. Read on to get straight to the point of curls… OK enough play on words!
It doesn't matter what the description of the curl is on the seller's website, once it's considered a curly lace wig, you'll care for the curls in the same way whether called a Jheri, Corkscrew or simple tight curl (we use full lace and lace front being used interchangeably in case you're wondering).

Our Store has plenty of options for you.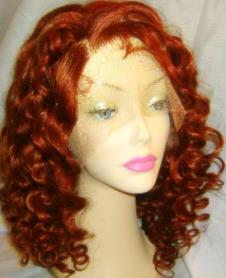 Who Can Wear Curly Lace Front Wigs?
Pretty much anyone – hooray! You choose the curl pattern you want by examining the images on the website and then choose which like most.
It's as easy as that. You'll find that more and more names appear for different curl patterns and the wig industry doesn't have a standard except for the wavy patterns mentioned on this site.
Other than that it's down to the creative minds of wig makers and online store to attribute names they think visitors will like.
So the key thing here is not to be overwhelmed by the variety of names instead look at the quality of the curl.
If the images depict frizzy curls or poor quality hair then steer clear otherwise you could end up with a life of serums and sprays just to bring the hair into order… and you don't want that!
Whether a luxury item or a necessity, your lace front wig should be something you enjoy not endure!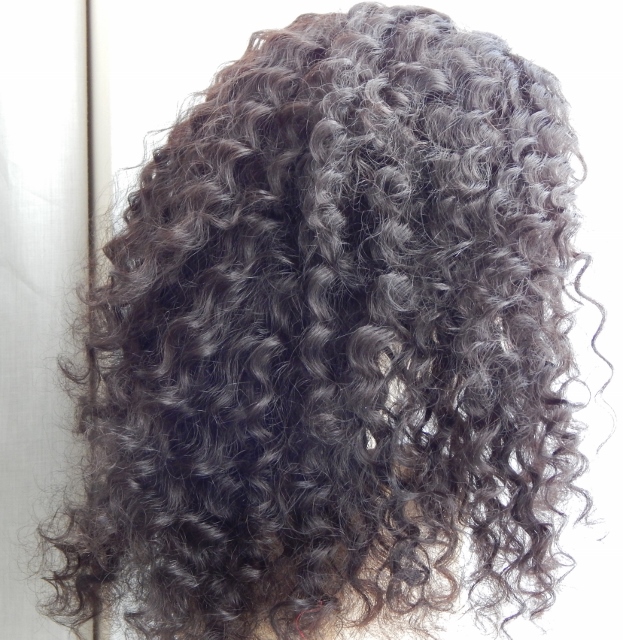 Curly Lace Front Wig Lengths
You'll be able to find curly full lace wigs in a mixture of lengths.
100% Remy lace front wigs will cost you more if it's beyond 18 inches due to the small supply of donors that have that length of hair.
Lengths for curly full lace wigs are typically 10 – 24 inches, even so you'll come across places that offer 8 – 36 inches including us – Hooray!
Remember when choosing a human hair curly lace front wig, you can choose 100% Remy hair for your wigs for human hair wigs or non-remy lace wigs are also an option. 

Curly Lace Front Wig Colours
Indian, Chinese, Brazilian and Malaysian Remy hair naturally comes in black to dark brown with the other colours being dyed into the wig.
You can find colours in every shade up to blonde with curly full lace wigs, but for a light colour al over the wig, you're likely to find that these are in the custom lace wig section instead of the ready to wear in stock lace wig section.

It's also worth noting that the lighter colours can be high-priced because of the permanent dyeing process, so you may settle on a darker base colour with 1- 2 highlight colours over about 30% of the wig.

Caring For Curly Lace Front Wigs
You can peruse the Peruke's Caring For Wigs Guide and have a look at these top five tips to get you started.
1. Always wash your curly wig on a mannequin head (a polystyrene/Styrofoam head is fine). This gives you complete control over the procedure instead of having to guess if you're washing it correctly.
2. Use a shampoo for dry/damaged hair or for chemically treated hair if the curls are not naturally from the donor (make sure it's suited for coloured hair if you're wig is coloured in any way – if you're not sure if it is, use one just in case).
3. Never brush curly hair when it's dry, as this causes frizz which over time damages the hair. Brush only when wet and only with a Denman brush or better still a wide tooth comb. You can use a large tooth comb when it's dry but don't comb it more than twice in a day – too much combing causes shedding and frizzing of your curly wig.

4. Never use products with mineral oils on your curly wig. A water based moisturizer that can be sprayed is best. Or better still make up your own by mixing one third glycerine – an ingredient that draws water into your hair to keep the moisture balance – and two thirds water.
5. Don't straighten the hair more than twice per month as this can damage the hair – ideally don't straighehten it at all as it's human hair and will break with prolonged extreme heat. If you do straighten, use a low heat setting and never use a blow dryer.
There's the full Monty on your curly wigs guide, it couldn't be simpler!


 Jump to Lace Wig Textures Page

Jump From Curly Lace Front Wigs to Home Page


Custom Search